Analyzing how the Hawks did at the actual drafting of players this weekend would be akin to analyzing the food you ate while on a date with an underwear model, but such is the task before us. So how did the Hawks do at replenishing the system?
From all accounts, the Hawks were fortunate to have first pick Mark McNeill fall to them at No. 18. Scouts love this kid's size. He's over 6-0, and is 204 pounds and had a tendecy to ragdoll opponents on the way to their net. He's been used in all situations at Prince Albert and thus has a pretty rounded game. We know the Hawks love that. Because of his two-way play and his size, most think he's pretty close to being ready for the big time. And with that size and brains he can start out in a 3rd or 4th line role, much easier for a kid to break into, and work his way up through the years. It is highly unlikely we'll see McNeill this year and he'll get another year at junior. But in the fall of 2012? Very possibly.
With the pick they got for Troy Brouwer, the Hawks took Phillip Danault. The first thing you read about this guy is that he was captain and he never takes a shift off, which are never bad things to hear. Another solid two-way player who wasn't afraid to get physical, Danault's offensive game hasn't bowled anyone over. Yet with his leadership qualities and defensive play, as well as a physicality, Danault could also break in on the bottom lines and work from there. Again, it would take an amazing training camp to even get a look, but as he can get in on the bottom floor we may see him a year from now as well.
The wild card in this is second round pick Brandon Saad. There were some scouts who had him going in the top half of the first round, so he could be a steal. But we don't know why he fell so far, and that will have to be discovered. Saad is another big body who can score in bunches, and might project as the biggest offensive threat overall of the first three picks. A true power forward candidate, he's also probably the farthest away.
As for the rest, we'll have to get a look at them at prospects camp.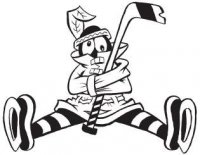 Sam Fels is the proprietor of The Committed Indian, an unofficial program for the Blackhawks. You may have seen him hocking the magazine outside the United Center at Gate 3. The program is also available for purchase online. Fels is a lifelong 'Hawks fan and he also writes for Second City Hockey .