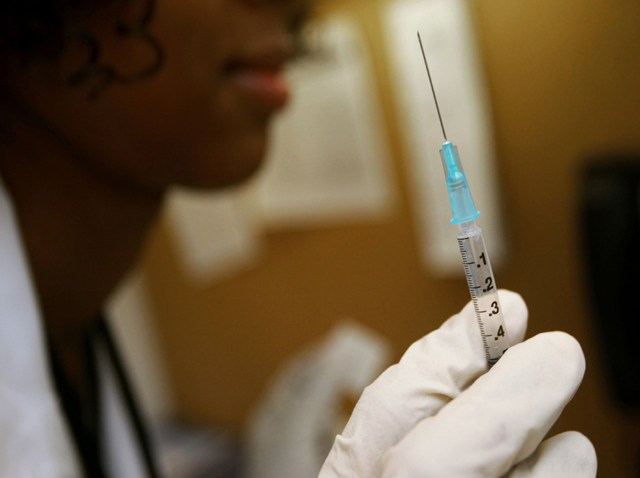 WHERE CAN I GET A H1N1 FLU SHOT?
FIRST YOU MUST BE A HIGH PRIORITY GROUP-PREGNANT, CHILD,HEALTH CAREWORKER,, CAREGIVER FOR CHILD UNDER 6 MONTHS , 25-64 WITH CHRONIC HAELTH CONDITIONS..
THE FIRST SOURCE IS YOUR DOCTOR'S OFFICE,OR CLINIC.
NEXT IS TO CONTACT YOUR LOCAL HEALTH DEPARTMENT , THE CHICAGO DEPT OF PUBLIC HEALTH WILL START TODAY (SAT) GIVING FREE VACCINATIONS AT 6 CITY COLLEGES WWW.SUNTIMES.COM/LIFESTYLES/HEALTH/1839366,CST-NXS-FLU22.ARTICLE .
WHAT ARE THE USUAL H1N1 SYMPTOMS?
3-4 DAYS OF FEVER, COUGH, SORETHROAT, BODY ACHES, FATIGUE RUNNY NOSE.
UP TO 25 % ALSO HAVE DIARRHEA AND VOMITING.
SEEK IMMEDIATE CARE FOR:
SHORTNESS OF BREEATH
PERSISTENT HIGH FEVER OVER 3 DAYS.
PERSISTENT VOMITING
CONFUSION
INABILITY TO EAT OR DRINK
FOR MORE INFORMATION AND HOW TO GET ANSWERS TO YOUR QOUESTIONS ON AN INTERACTIVE WEBSITE GO THE AMERICAN MEDICAL ASSOCIATIONS WWW.AMAFLUHELP .ORG.
THE H1N1 FLU IS HERE AND IT'S ESTIMATED THAT 1 IN 5 CHILDREN HAVE HAD IT. ALL TOLD 476 PEOPLE HAVE BEEN HOSPITALIZED IN ILLINOIS AND 20 HAVE DIED. THE MAJORITY OF THE CASES ARE IN THE YOUNG ESPECIALLY THOSE 5-18.
THE PROBLEM IS THAT THE VACCINE HAS NOT BEEN DELIVED AS EXPECTED.
CHICAGO WILL GET 7 MILLION DOSES AND ONLY ABOUT 120,00 HAVE ARRIVED.
DELIVERIES ARE ONGOING.
WHY IS THE VACCINE SO SLOW IN COMING?
THE FEDERAL GOVERNMENT WHICH BOUGHT UP ALL THE VACCINE WAS TOO OPTOMISTIC ABOUT HOW FAST THE H1NI VIRUS WOULD GROW AND ALSO HOW QUICKLY MANUFACTURERERS COULD PROCESS IT AND THE SEASONAL FLU VACCINE.
THE METHOD MAKING VACCINE STILL DEPENDS ONA 50 YEEAR OLD PROCESS.
HAS THE H1N1 VACCINE BEEN TESTED?
YES TESTING HERE WAS DOENIN AUGUST AND SEPTEMBER. AND EARLIER IN EUROPE. TO DATE 39,000 CHINESE PEOPLE HAVE RECEIVED IT AND THERE HAVE BEEN NO SERIOUS PROBLEMS -4 CASES OF MUSCLE CRAMPS.