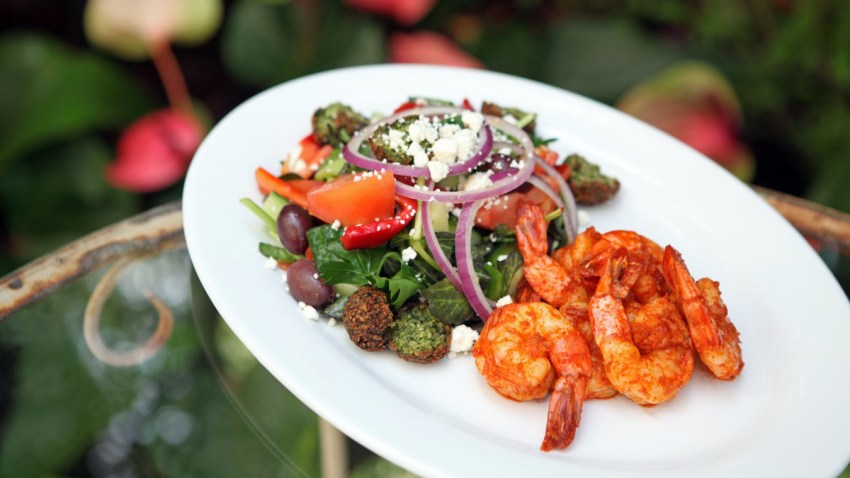 Dozens of Chicago-area restaurants will dish out new and special menu items for a limited time only thanks to review site Yelp.
More than 50 restaurants across the city and in the suburbs will offer never-before-seen food and drink options as part of the "Order The Yelp" event.
Some of the new Chicago items include mango mousse and ice cream at Artango Bar & Steakhouse, country style pasta from Connie's Pizza, a magic mocktail at Cup & Spoon, a Yelp Cinco Burger from Jerry's, Yelper Tacos from Fatpour Tap Works and more. In the suburbs, restaurants including Ballaro in Highwood, multiple locations of Bricks Wood Fired Pizza, Koi Fine Asian Cuisine and Lounge in Evanston, and several other restaurants are also featured.
The items will be available from June 4-17 and users can get 50 percent off by checking in on Yelp's mobile app. The company notes the dishes are only available while supplies lasts.
See the full list of restaurants and bars below.
Chicago
ARTANGO BAR & STEAKHOUSE (Ravenswood):
5 Star Mango Obsession - Mongo Mousse and Mango Ice cream
BADOUG SENEGALESE CUISINE (Rogers Park):
Yelp Mafe - Peanut butter cooked in a creamy peanut butter stew with sweet potatoe and carrotts toped over rice
BOB'S EL STOP (Lakeview):
TBD
BURRITO KING (Cragin):
Yelpamaya - Bolillo with a spread of beans, stuffed with pork rind, delicious pico de gallo, red spicy salsa.
CAFE & DELI BALLOU (Ukrainian Village):
Yelpanini (Yelp/Panini) - Nutella Hazelnut Spread, Grilled Green apples, Brie Cheese, Arugula on Ciabatta Bread
CANDYALITY (Lakeview):
What is your Yelp Personality Pack? aka What kind of Yelper are you? - A special limited edition candy pack to help each yelper discover their Yelp/Candy personality. Every pack will include a special Yelp Profile card to match your favorite treats to the kind of Yelper you are.
CAPO'S (West Loop):
Rocking Review Bredded Steak - Breading steak sandwich, with homemade red sauce, cheese hot and sweet peppers
CHICAGO BONE BROTH (Near North Side):
YELPin' Hot Lemongrass Chicken Broth
CHILANGO MEXICAN STREET FOOD (University Village):
Yelp Milanesa Torta Combo - A delicious Mexican Sandwich with lightly breaded Steak or Chicken, Panela Cheese, Bean Spread, Chipotle Mayo, Fresh Avocado, Slices of Tomato, Lettuce, Roasted Peppers, Red Onions and Slices of Fresh Jalapeño. Serve with a side of Chicken Tortilla Soup or Small Salad.
CONNIE'S PIZZA (Chinatown):
Fresh 5 Star Country Style Pasta - Fresh rigatoni pasta, Italian sausage, olive oil, fresh garlic, sundried tomatoes, sliced mushrooms, garlic and wine sauce, marinara, basil & shaved romano cheese
CUP & SPOON (Humboldt Park):
Yelp! The Magic Mocktail - This fauxjito combines fruity, floral Ethiopia espresso, gauva, and muddled mint, with a hint of lime.
DIMO'S PIZZA (Wicker Park):
Yelp Steak N' Fry Pizza - BBQ Sauce Base, Brisket, and Fries
EL NUEVO TACO LOCO (Ravenswood):
Yelp! Batatanachos!! - Gluten free treat can be made vegetarian or with any choice meat. We replaced the chips in our famous nachos with sweet potato fries, topped with our homemade refried beans, salsa Ranchero, your choice of meat, lots of melted cheese and of course guacamole sour cream
FATPOUR TAP WORKS (West Town):
Happy Yelper Tacos - Local white corn tortillas, pulled bacon, chile morita salsa, queso fresco, pickled goodies, crispy jalapeno
FOREVER YOGURT EXPRESS GOLD COAST: (Gold Coast)
Wild Yelp Watermelon - Yelp slushy, fresh watermelon blended with ice and either freshly made ice tea, natural lemonade, or soda.
GEORGE'S HOT DOGS (Bucktown):
George's Feta Dog - Topped with authentic Greek feta cheese crumbled over our pure-beef Vienna Hot Dog with freshly chopped tomatoes, Greek Kalamata olives and Oregano.
HAKKA BAKKA (Lincoln Park):
Double decker Yelp Lamb Shammi Burger - Ghee Toasted Brioche Bun, House made Cilantro Aioli, Sweet Mango Chutney, Two House made Lamb Shammi Kebab Patties, Onions, Tomatoes, Lettuce
HARVEST MOON (West Town):
5 Star Yelp Mediterranean Loaded Potatoes - Rustic potato skin stuffed with HM Crisp Lager Beer Cheese, Candied Bacon and Chives.
HOLY TACO! (Lincoln Park):
TBD
HOMESTEAD ON THE ROOF (Ukrainian Village):
Oysters on the Half Shell - Shiso, yuzu, puffed rice
HOPSMITH TAVERN (Near North Side):
Happy Yelper Tacos - Local white corn tortillas, pulled bacon, chile morita salsa, queso fresco, pickled goodies, crispy jalapeno
JERRY'S (Edgewater):
Yelp Cinco Burger - Choice of patty, American cheese, queso fresco, avocado, cilantro, red onion, lettuce, tortilla strips, southwest mayo, house barbecue sauce
LITTLE BUCHAREST BISTRO (Irving Park):
Yelp! That's Amazing Stuffed Peppers - 2-Large Peppers stuffed with ground pork, beef and rice, seasoned to perfection with paprika and garlic. Served with mamliga or spaztle.
MADISON & RAYNE (Wicker Park):
Yelp Local Tomato Bruschetta - Roasted chicken breast, MightyVine cherry tomatoes, sourdough, avocado & olive oil puree, parsley & basil
MODERN ASIAN KITCHEN (Wicker Park):
Yelp Chicken Wangs
Yelp Asian Falafel
PASTORAL (The Loop):
The Check In - Fresh goat cheese, prosciutto bacon, avocado, celery, red onions and house made almond butter
PATINO'S GRILL (Irving Park):
The Benny - Grade A Beef topped with roasted red pepper, grilled pineapple, sriracha aioli and Swiss cheese
PI-Hi CAFÉ (Roscoe Village):
TBD
POLK STREET PUB (South Loop):
Yelp Whisky Wings - sweet and savory wings with a whisky infused sauce
ROCK WRAP & ROLL (DePaul):
Yelp maki
ROJO GUSANO (Lakeview):
Cemita - A traditional sandwich from Chef Dudley Nieto's hometown of Puebla, Mexico. Featuring Ham and Breaded Steak, layered with Avocado, Onion, Queso Oaxaca, Morita Chile, served on a Sesame Roll
STRINGS RAMEN (Chinatown):
Tsukemen with ChaShu - A warm-weather spin on traditional ramen. Strings' house-made noodles, teamed with warm slices of Japanese ChaShu (soy sauce flavored roast pork), served alongside a generous bowl of creamy, pork-based French onion dipping sauce.
TEA'SE TEA SHOPPE (Portage Park):
Yelp Guava Strawberry Tea-Lemonade
TEAGSCHWENDNER (Lincoln Park):
Yelp Matcha tea
TIERRA CALIENTE RESTAURANT (Brighton Park):
Azteca Yelp Chicken - a smoky, garlic red sauce with a side of grilled prickly pear cactus and caramelized onions. Served with hand made tortillas.
THE DRUNKEN CHERRY BAKE SHOPPE (Logan Square):
TBD
THE LIFEWAY KEFIR SHOP (The Loop):
Yelp Kefir Smoothie
WHISKEY BUSINESS AND FRY BAR (Wicker Park):
Yelp's Summer Shrimp Risotto - Heirloom cherry tomato Basil risotto topped with fire roasted shrimp.
WOODIE'S FLAT (Near North Side):
Happy Yelper Tacos - Local white corn tortillas, pulled bacon, chile morita salsa, queso fresco, pickled goodies, crispy jalapeno
YUM DUM FOOD TRUCK (Near North Side):
5 Star Yelp Balls
Suburbs
210 RESTAURANT & LIVE MUSIC LOUNGE (Highwood):
Deviled Eggs à la Yelp
BALLARO (Highwood):
Yelp's useful, funny, and cool duck prosciutto pizza with charred scallions and fontina.
BRICKS WOOD FIRED PIZZA (Naperville, Wheaton, Lombard - downtown, Lombard - Yorktown, West Dundee, Mount Prospect):
5 Star C&C Pizza - Roasted garlic and extra virgin olive oil with Boar's Head chicken breast and our house cheese blend topped with shaved red onions, dried cranberries and a sprinkle of feta cheese then finished with a drizzle of sweet balsamic glaze.
DAILY PROJECTS CAFE & EATERY (Algonquin): yelp.com/biz/daily-proje…
The Yelp Project - Orange Mocha Latte (served iced or steamed)
DOWNERS SAND CLUB SPORTS BAR & GRILL (Downers Grove):
Yelp Bermuda Triangle cocktail & 5 Star Bay Breeze cocktail
KOI FINE ASIAN CUISINE AND LOUNGE (Evanston):
Yelper's Maki Roll - Shrimp Tempura Maki Roll. Crunchy texture of shrimp tempura with avocado, Cucumber, lettuce, unagi eel aioli and orange Tobbiko. (Free with check in)
LA COCINITA (Evanston):
Special Yelp Venezuelan Combo - El Pabellon Arepa (Venezuelan Cornmeal Patty stuffed with Brisket, Black Beans, Sweet Plantains, Queso Fresco, & Cremita) & Carne Asada Patacon (Crispy Plantain "Sandwich" with Steak, Salsa Verde, Purple Cabbage Slaw, & Queso Fresco)
MARCO'S NORTHSIDE GRILL (Highwood):
Yelp Yo Belly Burger - Marco's classic mouthwatering 100% Black Angus ground beef/brisket House Burger with fries
OLD FASHIONED SWEETS (Darien):
5 Star Chocolate Dipped Strawberries
*Also check out their customizable chocolate pieces and snap a photo with the Yelp items!
SCOTTYS ON SHERIDAN (Highwood):
Yelp Bacon Wrapped Scallops
STEAK BURRITO (Bloomingdale):
Yelpurrito - baby or giant sized burrito stuffed with your choice of meat (Barbacoa, Beef, Carnitas
Chicharron, Chicken, Chile Relleno, Chorizo, Chorizo & Egg, Lengua, Milanesa, Pastor, Steak
Steak & Potato, Tripas, Veggie), cheese, tomatoes, lettuce, beans, smothered in MORE cheese and topped with tomato, onion, green pepper, and cilantro. Served with sour cream and guacamole.
SWEET GALLERY CUPS 'N CAKES (Shorewood):
Cheers to Yelp Mimosa Cupcake - Spumante Champagne Cake with Orange Cream Cheese Frosting
TAVA INDIAN RESTAURANT & BAR (Morton Grove):
Yelp Bhuna Chicken - Tender pieces of fresh boneless chicken cooked with fresh ginger, garlic, onion, tomato and fresh herbs ($8)