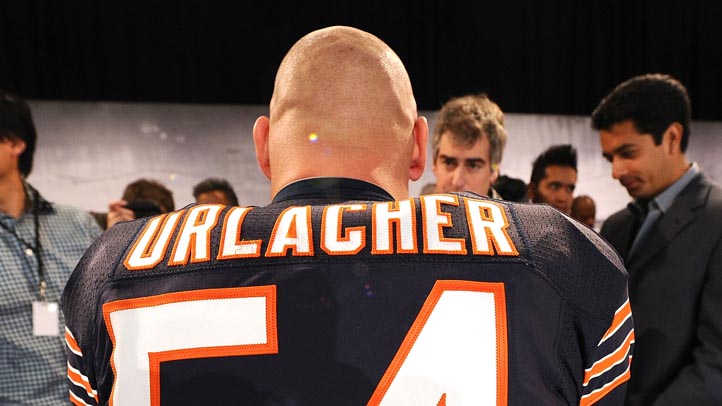 Over the weekend, my Twitter feed exploded with, "OH NOES BRIAN URLACHER IS LEAVING DA BEARS ZOMG!" (I'm paraphrasing.) What whipped people into such a worried frenzy? This interview Brian Urlacher did with ESPN 1000, where he said:
"I think (team president) Ted Phillips said when they had the owners meeting they're gonna wait until the season is over; see what happens, how I play (before addressing the contract situation)," Urlacher said Friday on "The Waddle & Silvy Show" on ESPN 1000. "It's kind of exciting. I've never been a free agent. So if I can get to free agency we'll see what happens. I no doubt want to finish my career here. There's no doubt about that. But you bring in free agency and all that you just never know what's gonna happen."

Yes, he said he's excited about exploring free agency. He also said, "I no doubt want to finish my career here." No doubt is a pretty powerful statement. Unless you're referring to Gwen Stefani's former band, it's not a phrase you just throw around.
Of course free agency is an exciting time for Urlacher. Since he is still playing at a high level, it will ensure that Urlacher is paid yachtloads of money instead of the boatloads he is receiving now. At 34, he's closer to the end of his career than the beginning. Put yourself in his position. If you are close to retirement and you have an opportunity to increase your earnings significantly, wouldn't you be excited? Of course you would.
The time to worry about Urlacher wearing a different uniform is not now. We already have enough agita from the Matt Forte contract negotiations. They will address his contract after the season, and he wants to stay a Bear. Take a breath, Bears fans.
Copyright FREEL - NBC Local Media