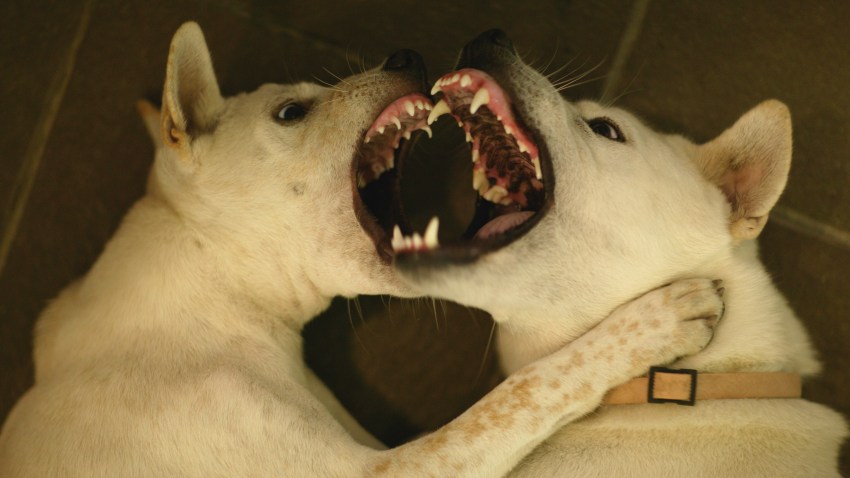 The Cook County Sheriff's office shut down a "horrific" dog-fighting operation in a West Suburban Chicago day-care facility today.
Sheriff Tom Dart said his officers found a horrifying scene, including a dog with its eye ripped out, a dog with its leg twisted backwards, and a dog with its lower extremities nearly ripped off its body.
Police charged Charles Sutton, 42, of Maywood, with felony dogfighting. His wife operated the day care home, but maintained she wasn't involved with the dog fighting.
The man who owned the injured dogs and puppies, Lance Webb, 27, was also charged with felony dogfighting.
Martez Anderson, 38, was charged with being a felon in possession of an unspayed or unneutered dog, a misdemeanor. Anderson kept the dogs at his house.
"Kids were playing on a swing set just 10 feet away from a vicious fighting dog and blood-stained floors," Cook County Sheriff Tom Dart said at an afternoon press conference, while holding a cute puppy in his arms.
At least nine of the dogs discovered at the house were puppies, Dart said.
"The very equipment used to train these dogs to kill was being kept in the garage right behind the house. To be engaged in this sort of activity is disturbing enough, but to take a chance with anybody's children is reprehensible."
There were ten children being watched at the home, 2101 S. Third Ave., when police arrived this morning. Police said they found "a very aggressive" pit bull in a garage behind the house, with blood on the floor and along the sides of a car.

"Also in the garage were syringes, medication, bite sticks and harnesses used in dog fights," the sheriff's office said in a release. "The chest of the dog found in that garage was shredded from a recent fight and its penis was bitten almost completely off."

The dogs were housed nearby at 2025 S. Sixth Ave., home to an ex-con, Anderson, who charged $60 a month for dogs to be kept there. Anderson was released from prison on a drug conviction in 2006 .

In the garage at Anderson's home, police found an 18-month-old pit bull with three 4-week old puppies in a wire cage soaked in feces and urine. There was no sign of food or water for them, said police.
The rescued dogs are currently being held at the Animal Welfare League in Chicago Ridge
"This was very unsettling," Dart said. "It's one that's really shocked a lot of people."
Copyright AP - Associated Press