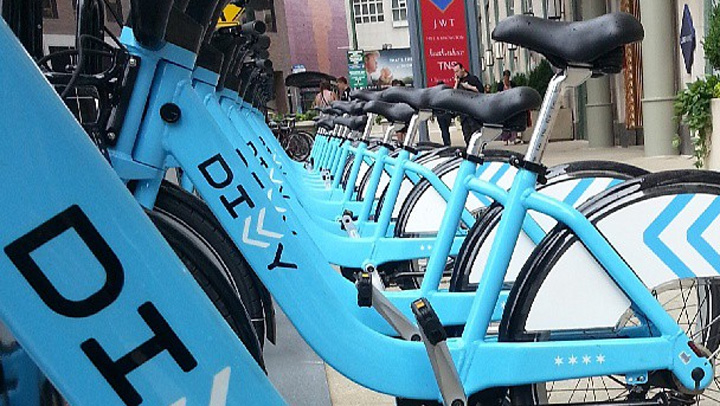 Some potential bad news for fans of Chicago's Divvy bike-sharing service.

The Mayor of Montreal, Denis Coderre, announced today that Bixi, the supplier of bicycles, docking stations, and the software behind the Divvy system, will file for bankruptcy, with the city of Montreal taking over Bixi's Montreal assets.

Montreal has pumped millions into Bixi, starting with a $37 million loan and a guarantee of an additional $11 million, $6.4 million of which has already been tapped. But Coderre said in a statement today that Bixi cannot meet its financial obligations, and that Montreal taxpayers will assume no further financial risks in the company.

"Our duty is to protect the interests of Montrealers, and this is what we are doing today," Coderre said.
Fueling the company's slide into bankruptcy, was a decision by various clients, including the City of Chicago, to withhold large payments totaling $5.6 million, the statement said. Bixi reportedly owes its suppliers about $9 million. Chicago reportedly withheld $2.6 million.

Canada's CBC News says Bixi owes a total of $50 million to various creditors.

"Injecting additional funds to maintain (Bixi) was out of the question," Coderre said. "If Bixi can be saved, it is through the Bankruptcy and Insolvency act."

In November, Mayor Emanuel's office announced plans to use a $3 million grant to add 75 more stations beyond the 100 already planned for installation in the spring. To date, the United States Department of Transportation has already sunk about $25 million into Divvy's infrastructure. There are currently 300 stations in operation in Chicago.

When he made that announcement, Emanuel noted that in the four months since Divvy launched it had provided 650,000 trips to Chicago residents who logged more than 1.5 million miles. Divvy has also sold more than 125,000 daily passes in Chicago, and 11,000 annual memberships.

Those 75 new stations would have made Divvy the largest bike sharing system in North America.

It is not clear how Monday's announcement affects those expansion plans.