Before I break down how I think the Central division will shape up this year, I should warn you that as an avid horse racing handicapper I already know my betting skills aren't exactly going to keep the debt collectors away. So you've been forewarned.
Now that that's out of the way, and with the rosters set, all that's left to do is try and figure out what the next six months have in store. Then we get to do it all again when we try and figure out how the playoffs will go when my regular-season predictions are wrong. Oh happy days of joy! Today, we do the Central Division.
1. Chicago Blackhawks
Yep, the rose-tinted glasses are on. But this is how I truly feel the Hawks will do. They're the most solid team in the division. Three of the teams have goalie questions, but the Hawks and the Predators don't. And the Predators just don't have the scoring the Hawks do. The Hawks will score goals aplenty, at least they will if Dave Bolland discovers health in a far off, jungle land. Should he drink from the carpenter's cup, the Hawks will have three lines that can seriously threaten. No one else can boast more than two. Their defense should be solid 1-6, meaning they shouldn't be stepping on their tongues come the 3rd period where they coughed up lead after lead last year. The penalty kill just has to be better, and there's flexibility here to go out and get pieces that may be needed. A return to the top, and this time to stay.
2 Detroit Red Wings
If you can sift through the love-fog the hockey media has for the Detroit Red Wings, you'll see a team that has some flaws. One, they're old. This doesn't mean they're not good, it's just that they will hit some rough patches in the season when fatigue and injuries hit. Second, despite their rush to keep handing Nicklas Lidstrom Norris Trophies (all in the hopes he'll remember their name, hence give their life meaning), this blue line just isn't very good. Lidstrom is close to half of what he was, which still makes for a plus-defenseman but not a dominating one. Ian White is not a replacement for anything competent, and the rest is just overblown or bad. They'll give up goals. They'll score plenty too, and their discipline combined will lead to a lot of wins. But the dynasty is starting to crumble.
3. Nashville Predators
There's no reason they'll be good, they just will. It's how it works. They lost a really good second-pairing d-man in Cody Franson this summer, as well as an interesting center in Matthew Lombardi -- assuming he can keep his brain from circling within his skull. However, there are a couple kids to take their place. Ryan Suter and Shea Weber are as good as it gets, and in tandem with goalie Pekka Rinne, the Preds are going to make every night tough on their opponents. But can they score enough in a division where all the other teams are going to be pretty lethal? There are some promising kids but no guarantees. Coach Barry Trotz always finds a way, though, and there's no point in fighting it.
4. St. Louis Blues
A real interesting bunch here. The crop of forwards is just a nightmare, with close to three lines of guys who not only can score but live to grind you into dust along the end boards. No defense is going to relish lining up against these guys. The defense has some holes but isn't awful, and behind that is a goalie in Jaroslav Halak who is capable of carrying a team. But he's also capable of pulverizing his own as well. A lot will depend on which one the Blues get. Still, if they can stay relatively healthy -- which they haven't in years -- they're going to surprise a lot of people and threaten a playoff spot.
5. Columbus Blue Jackets
Better, but not enough. The acquisition of Jeff Carter and rookie Ryan Johanson will give the Jackets a lot more firepower than they've had. They'll actually be able to score from more than one line. But Carter and resident star Rick Nash are an odd fit, and when it doesn't work they'll have to figure out where Carter goes. Whether they do or not, this is still a terrible blue line backstopped by a goalie in Steve Mason who hasn't been any good in two years. They'll score more, but they'll give up a whole lot more too.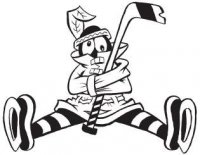 Sam Fels is the proprietor of The Committed Indian, an unofficial program for the Blackhawks. You may have seen him hocking the magazine outside the United Center at Gate 3. The program is also available for purchase online. Fels is a lifelong 'Hawks fan and he also writes for Second City Hockey .