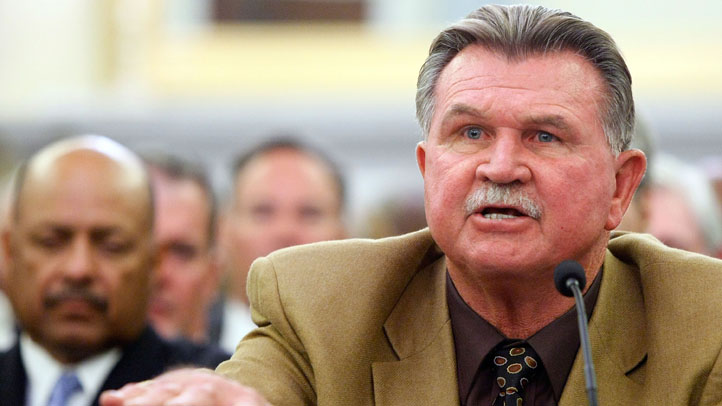 Former Bears coach and legend Mike Ditka recently found himself in the middle of nowhere, speaking to about 100 people at the opening of a new building for an oil company in western North Dakota. Apparently bored, he decided to dream of the past.
Ditka, who coached the Chicago Bears to a Super Bowl victory, made several comments about his conservative politics, including saying he regrets not running against Barack Obama to represent Illinois in the U.S. Senate.
"Biggest mistake I've ever made," Ditka said. "Not that I would have won, but I probably would have and he wouldn't be in the White House."
When asked why he was appearing at an event in North Dakota, the coach replied "I have no idea. My secretary sets everything up."
A lot of ink has been spilled about Ditka in the decades since he won the Super Bowl in 1985, much of it about whether or not trading away an entire year's worth of draft picks for running back Ricky Williams in 1999, while he was coach of the New Orleans Saints, was a good idea or not.
Well, to be fair, occasionally some of that press was about his personal life, too.
But very little of it was about Ditka's brief flirtation with running for the U.S. Senate in 2004. That's because, truth be told, Ditka never had a chance in that contest.
In 2004, polling firm SurveyUSA did a head-to-head poll between Ditka and Obama that showed Obama had a 7-point lead over Ditka. Those seven points came when Obama was still a relatively unknown state senator and before his career-defining speech at the Democratic convention that September. A the time, Obama was an up-and-coming political star, and Iron Mike was a fading sports legend looking for something to do.
Naturally, Iron Mike decided not to run, citing other obligations, such as his restaurant empire.
Which was probably a good decision on his part. Otherwise, he would never have gotten the chance to visit the White House in 2011 and give Obama a Bears jersey with the president's name on it.
Or end up in North Dakota with no idea how he got there.