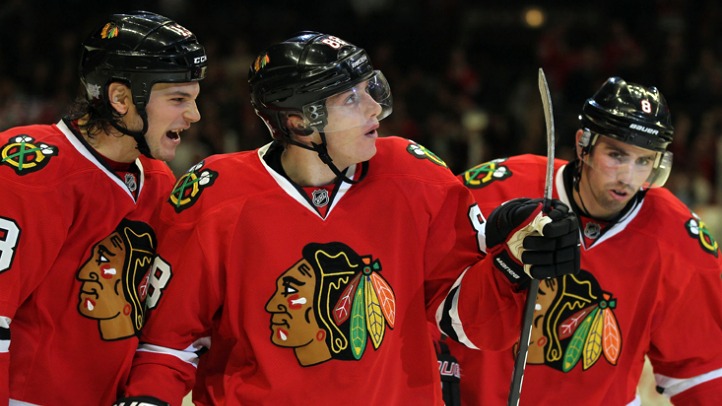 We can stop gnashing our teeth and shouting at the rain as the Hawks get to take the ice again tonight to start a stretch of three games in four nights.
Maybe there will be some reprieve from the dejection and confusion the losing streak of the last five days has brought everyone. And if you can't find safe haven against the Blue Jackets right now, your problems are probably requiring more than out-patient surgery.
Joel Quenneville hit the blender again, and the Hawks lineup will look different. Jonathan Toews and Marian Hossa are together once again, this time with Viktor Stalberg (though look for this to be Andrew Brunette in a hurry). The second line is still Patrick Kane and Dan Carcillo but this time Patrick Sharp is riding shotgun. The third line is the early season configuration, but will have Marcus Kruger in the middle as Dave Bolland is out after taking a shot off the foot Tuesday. . The fourth line is Jamal Mayers centering for whatever Rostislav Olesz might be and a more than likely very confused Andrew Brunette.
Apparently, the d-pairings remain the same, which means that John Scott could get another game in Joel Quenneville's never-ending attempt to demonstrate choas theory for the masses, or to kill every Hawks fan with a brain.
Oh, and the power play apparently has a new look, with the second unit putting defenseman Steve Montador in front of the net. Some things I have explanations for, some things I have jokes for, and some things I just let pass because I find them too stupid to comment on. Guess which one this falls into?
Columbus is where we left them when they came into town. They're awful, and now they've got a 9-2 beating from the Flyers to their name. Their coach is the walking dead, their players know it and don't care, and his likely replacement just got hired in St. Louis. Their prize acquisition, Jeff Carter, is still hurt. The other one, James Wisniewski, has been as bad as everyone told them he would be. The one danger here is that 7-goal thumping was the last game Columbus played, and no matter how down morale might be there's going to be a desire to wash that from the memory banks. The Hawks will not see a team just lying down tonight. But being anywhere close in effort level and the talent wins out.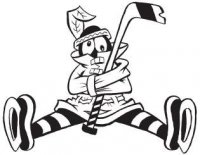 Sam Fels is the proprietor of The Committed Indian, an unofficial program for the Blackhawks. You may have seen him hocking the magazine outside the United Center at Gate 3. The program is also available for purchase online. Fels is a lifelong 'Hawks fan and he also writes for Second City Hockey .