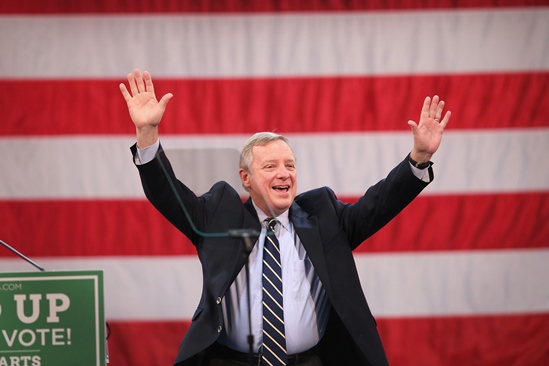 When the Anaheim Ducks knocked off the Winnipeg Jets on Wednesday night to eliminate them from the postseason, few people outside of southern California were happier than Sen. Dick Durbin (D-Ill.).
That's because Durbin picked the Ducks to eliminate the Jets in four games as part of the NHL's annual Bracket Challenge, and the victory means that out of all the brackets submitted to the league in the contest, Durbin is tied for the top spot.
Joining Durbin at the top is a large group headlined by actress Chloe Grace-Moretz and actor Dave Annable.
Unfortunately for Durbin, it appears that his run at the top will be short-lived. He picked the Vancouver Canucks to dispatch the Calgary Flames in five games, and the Flames currently hold a 3-1 lead in that series. He also picked the Tampa Bay Lightning to sweep the Detroit Red Wings in the first round, but the Red Wings hold a 2-1 edge in that series.
There is a silver lining for the senator however. He picked the Chicago Blackhawks to beat the Nashville Predators in the first round, and they're within a game of doing so as they lead the series three games to one.