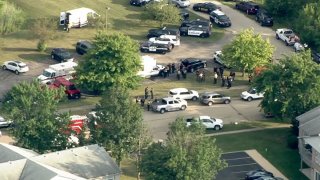 Residents in suburban Morris were asked to remain in their homes for several hours after a shooting left one person dead and a suspect in custody on Thursday afternoon.
According to a text alert sent out to residents, reports of a shooting in the 500 block of Twlight Drive began to flow into law enforcement after 5 p.m.
The call originated from the area around an apartment complex near Interstate 80, prompting a large police response and a text message alert to be sent out to residents.
A shooting has taken place in the 500 block of Twilight Drive in Morris, IL," the alert read. "We are asking all residents in the area to stay inside their homes as the circumstances and suspect are unknown at this time."
The lockdown order was lifted just after 7:30 p.m., according to TotalTraffic.
Police say that one person was shot during the incident, and later died as a result of their injuries. That victim has yet to be identified.
A suspect was also taken into custody, officials said in a press conference Thursday evening.
Numerous squad cars from multiple police departments, including Grundy County sheriff's deputies and Morris police, were observed at the scene, along with SWAT vehicles. A police checkpoint was also set up on Twilight Drive, with residents asked to avoid the area.