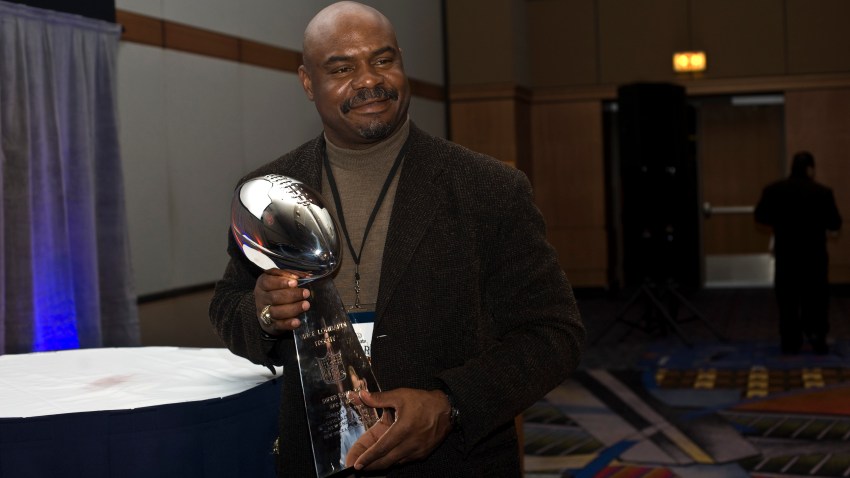 Former Bear Dave Duerson, 50, died alone in his Florida home on February 17, after shooting himself in the chest with a .38 caliber revolver.
The Miami-Dade medical examiner Wednesday released the final report about Duerson's death by suicide, and along with it some intriguing details about the scene.
Duerson was found naked beneath a green sheet on his bed that was pulled up to his head. Before shooting himself he laid a folded American flag across a second bed and set two certificates and two medals there as well. He also propped a chair in front of his front door.
The former safety also reportedly left a series of documents on his dining room table. The walk-in closet in the master bedroom has a football statue, three helmets from different football teams, and three football trophies," the report says.
In a text message to loved ones, Duerson asked that his brain be left for NFL research, emphasizing he wanted the "left side" checked out in particular.
Chris Nowinski, co-director of the Center for the Study of Traumatic Encephalopathy at Boston University School of Medicine, received a call from a friend of the Duerson family Thursday night. He made arrangements to have the brain prepped in time for research and sent to Boston University.

"I'm under the impression the brain will be studied."
Nowinski's research of Duerson's brain will take 3 to 6 months to determine the presence of chronic traumatic encephalopathy (CTE), or what used to be known as "punch drunk."

"NFL players are at high risk for CTE," Nowinski said, adding 13 of the first 14 NFL brains they have studied have shown to be diseased with CTE.
There currently are 65 brains in the bank and more than 300 athletes in the Center's brain registry.
 

Friends and family members made no comments about medical issues Duerson may have been suffering from prior to his death.

"It's sad, it's shocking that it may have been on his mind" the moments before his death, Nowinsky said.

Ironically, Nowinski, a prep football player at Hersey High School in suburban Chicago, met Dave Duerson in 1996 when the former Bear presented Nowinsky with a National Football Foundation Scholarship.
"His family can be rest assured that it was an incredible selfless contribution to medical research."
Richard Dent entered the NFL in the same 1983 draft class as Duerson and remained close to his former teammate. Dent emphasized Duerson's concern for the game they loved.
"He cared about the game, itself and the integrity of the game, and the future of the game."
 
Duerson was thinking about the future of the game and the future health of NFL players, even in his death.