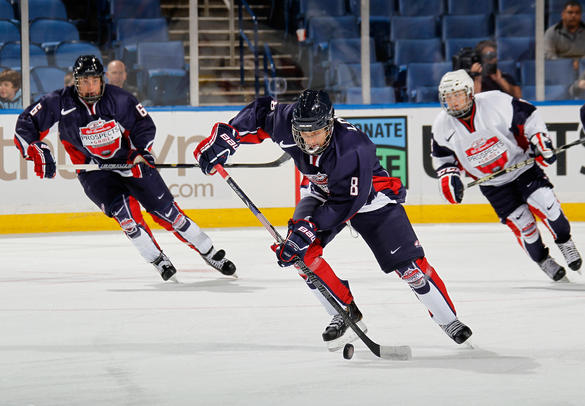 In a week where Chris Chelios, a player who got to spend a big chunk of his career with his hometown team, was elected to the Hockey Hall of Fame, the Chicago Blackhawks' prospect development camp at Johnny's IceHouse has taken on a familiar local flavor.
That is due in large part to the play of youngsters like 18-year old Anthony Louis, a Winfield native who was drafted by the Hawks in the sixth round of the NHL Entry Draft June 30th. Hearing his name called by his favorite team was a thrilling one for him, but getting out onto the ice against other potential future Hawks provided a welcome reality check for what the pro game will be like.
"The game speeds up a lot, and there are some really great hockey players," Louis said after finishing his first scrimmage at the camp. "They are trying to get a spot on the same team, so there's some big competition out there."
Louis' path to this point in his career reflects a growing trend among junior players. Rather than venturing to Canada to join one of the big three leagues up there (OHL, WHL, QMJHL), Louis opted to leave Wheaton North High School after his sophomore year to join the US National Team Development Program in Michigan.
"It was a great opportunity to skate for my country, and to put that USA crest on every day was great," Louis said of the experience.
During his final season with the team, Louis had 19 goals and 28 assists in 59 games played, including three power play goals and three game winning tallies. Those numbers were good enough to earn him a spot on the NCAA's Miami (OH) Redhawks, and the experiences he's had at prospect camp will give him a boost heading to his new team.
"Moving onto college, it shows me what to expect at the next level," he said. "I need to boost my game up and get stronger. It's going to be a great experience, and I'm really looking forward to getting started in the fall."
Getting stronger is especially key for Louis because he has always been one of the smallest players on the teams he's been a member of. At only 5'6" and 145 pounds, Louis' size has been a point of concern for many scouts over the years, but he has some good role models to model his game after.
"I look up to guys on the Blackhawks like Patrick Kane, but also other guys like Tyler Ennis and Nathan Gerbe," Louis said. "They're all little guys, and they try to use it to their advantage like I do."
In Wednesday's practice, Louis' aggressive net-crashing and puck-seeking style reminded those in attendance of another player who went on to accomplish big things despite his size: Theo Fleury.
Despite being only 5'6" and 180 pounds, Fleury had a mean streak a mile wide, and racked up 1840 penalty minutes to go along with his 1088 career points. He also scored 455 goals in his NHL career, including 12 in a brief stint with the Blackhawks.
The path to the NHL is never an easy one, and especially so for a guy selected in the sixth round. But as guys like Chelios have shown, there is something to be said for the hometown kid trying to make it big with his favorite team, and that's what Louis has a chance to do in Chicago.