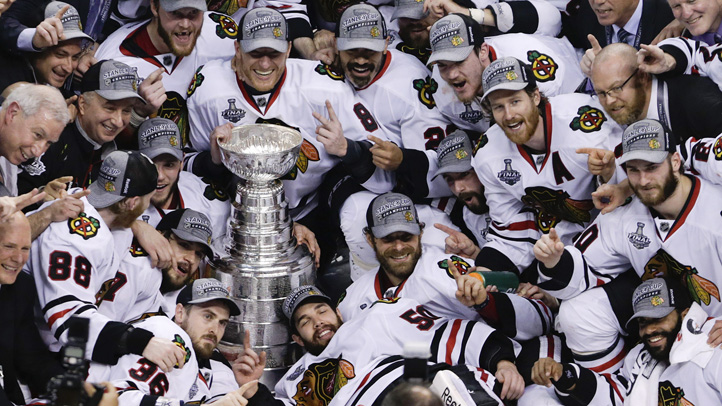 Before the Chicago Blackhawks won the 2010 Stanley Cup championship, it seemed like they were actively trying to make big splashes in free agency.
In 2008 for instance, the Hawks signed defenseman Brian Campbell to a massive seven-year contract and signed goaltender Cristobal Huet to a four-year deal. Both players were signed the day free agency opened and were feted with a massive signing party at the United Center.
In 2009 the Hawks struck out again in free agency, signing Marian Hossa to a 12-year deal with a cap hit of $5.33 million. The deal drew a ton of scrutiny from the NHL because of the way that the salary tailed off at the end in order to lower the overall cap hit, but ultimately it was accepted and paved the way for Hossa to help the Hawks to their first title in nearly half a century.
After the Hawks hoisted that Cup in 2010, however, something fundamentally changed about the way they approached free agency. Yes, the big sell-off of talent in the aftermath of the Cup because of salary cap concerns had something to do with it, but with GM Stan Bowman at the helm, the team instead focused on players who could either help them in the very short-term, or tried to trade for long-term assets rather than overpay for them on the open market.
A couple of good examples of that new philosophy are defenseman Johnny Oduya, who was acquired for picks from the Winnipeg Jets, and forward Andrew Brunette, who was signed to a cheap 1-year deal by the Hawks after he decided to leave the Minnesota Wild.
This season should be a similar story for the Blackhawks. They currently have 19 NHL players under contract for the 2013-14 season, but still are likely going to be looking for complimentary pieces. Reports are still swirling over whether or not the Hawks will bring back goaltender Ray Emery, with indications that he is a prime candidate to land in Philadelphia if he doesn't come back to Chicago. If they don't, then the Hawks will either call up Finnish import Antti Raanta, or more likely will seek to grab a goaltender on a cheap 1-year deal to back up Corey Crawford in net.
Defenseman Michal Rozsival is also more than likely heading out of town, which means the Hawks have several options on what to do for their third blue line pairing. They can either play Sheldon Brookbank in that role, call up a young gun like 2011 first-round pick Dylan Olsen or hotshot prospect Adam Clendening, or sign a lower-tier defenseman like Tom Gilbert, who was cut loose by the Wild on Wednesday.
Finally, the Hawks will need to address adding a depth forward. It's unlikely that they are going to replace Michal Handzus, Dave Bolland, Michael Frolik, and Viktor Stalberg with nothing but Rockford call-ups, but outside of adding a cheap veteran or two, they will be younger in their forward group. Look for them to especially consider adding a winger to the mix to replace Frolik, but if they don't, then Jimmy Hayes, Ben Smith, and Jeremy Morin are your likely Opening Night starters for the Hawks.
As always, stay tuned to Madhouse Enforcer for all of your Blackhawks coverage needs, as we will be updating the site constantly as free agency opens at 11am CDT.