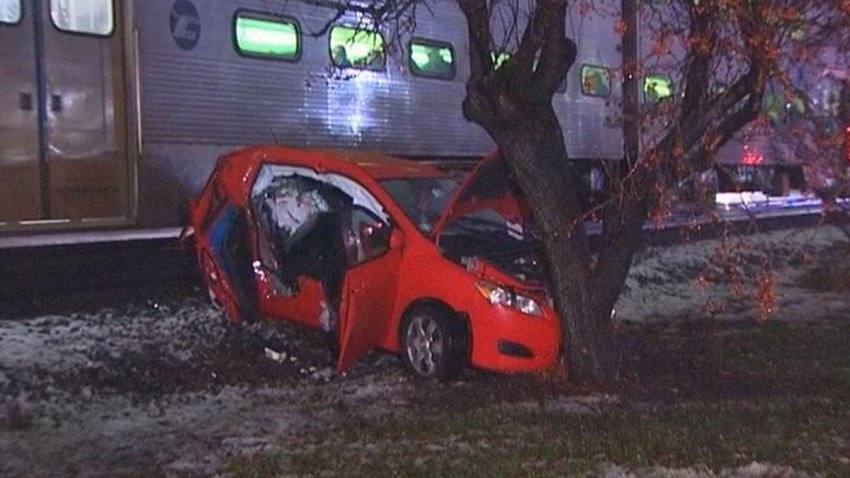 Three people were hospitalized after a Metra train collided with a vehicle Friday evening in northwest suburban Des Plaines.

Police Cmdr. Christopher Mierzwa said the driver of the small red car "mistakenly turned" onto the tracks in front of an approaching North Central Service train at around 6:15 p.m.

The car's driver and two passengers were taken to area hospitals for treatment with non-life threatening injuries, police said. Two people were taken to Advocate Lutheran General Hospital in Park Ridge, while the other injured person was transported to Northwest Community Hospital in Arlington Heights, according to a Metra spokesman.

The train -- No. 115 -- bound for Antioch, was delayed about 75 minutes. No one on the train was injured.
The driver of the vehicle was cited for vehicle code violations, police said.

Earlier, another train on the same line was delayed arriving in Chicago after it struck a person in northwest suburban Buffalo Grove in what an official said was a suicide attempt.

"A juvenile stepped in front of a slow-moving Metra train, was struck, and thrown from the tracks. The juvenile was transported to Advocate Condell Medical Center with non-life threatening injuries," Sgt. Sara Balmes said in an email to NBC Chicago.

A third incident on the Union Pacific/West Line caused delays after a pedestrian was struck in west suburban Glen Ellyn.

Train No. 50 struck a man who was crossing Main Street in Glen Ellyn about 2 p.m., authorities said. The man, whose age was not immediately available, was taken with severe injuries to Advocate Good Samaritan Hospital in Downers Grove, according to the Glen Ellyn fire department. The man was still breathing when authorities arrived on the scene.

Witnesses told police the man walked around the crossing gates, which were functioning properly, according to a statement from Glen Ellyn police.