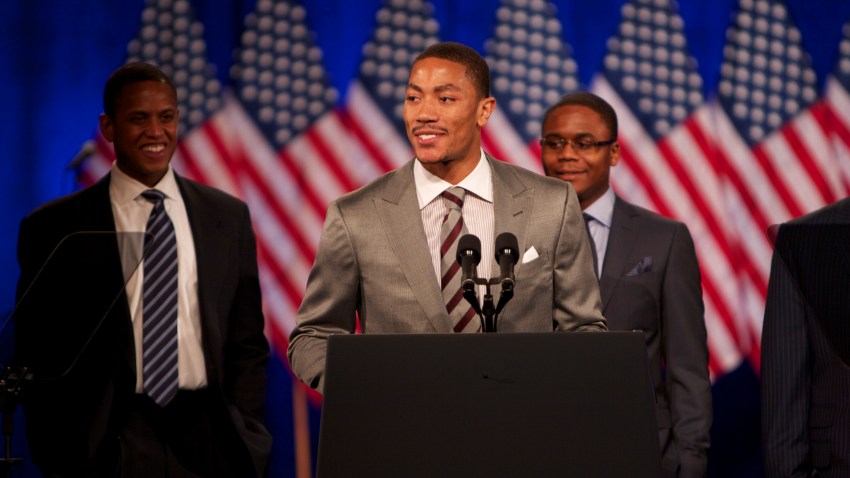 Chicago Bulls point guard Derrick Rose has an interview in the May issue of GQ in which he talks about his relationship with President Obama.

Rose introduced Obama at the Navy Pier fundraiser that kicked off his re-election campaign last year. But he knew the president long before either of them became famous. Rose grew up in Englewood. Chicago's poorest neighborhood was part of Obama's state senate district from 1996 to 2002, before he instructed the redistricting committee to cut out the ghetto and replace it with the Gold Coast, so he could represent people with money to donate to his Senate campaign.

"I remember when he wasn't our president, when I was a kid, when he'd just be walking down the street, a state senator," Rose told GQ's Will Leitch. "He was just always there. I didn't appreciate it then. I was in high school and just wanted to see rappers."

Rose's attitude toward politics is very different from his predecessor as the Bulls' superstar. In 1996, Jordan's mother asked him to endorse Democrat Harvey Gantt, who was running against Sen. Jesse Helms in Jordan's native North Carolina. Afraid of sullying the Air Jordan brand with politics, Jordan refused.

"Republicans wear sneakers, too," he said.

(Jordan did become involved in politics after leaving the Bulls. He filmed an ad for fellow basketball player Bill Bradley's presidential campaign, and donated to Obama.)
Rose, who has only spent one year of his life outside Chicago, is a less cosmopolitan figure than Jordan. Unlike Jordan, an international superstar who transcended the Bulls, the NBA, and sports in general, Rose's fan base is concentrated in Chicago. Endorsing Obama is not a controversial opinion around here.

However, the 23-year-old does have a few things to learn about politics. For one thing, he thinks Obama is his friend.

"I know that if I really wanted him to come out and support an event I'm going to in Chicago," Rose says. "I know it could probably get done."

Politicians are there when they need you, Derrick.
Buy this book! Ward Room blogger Edward McClelland's book, Young Mr. Obama: Chicago and the Making of a Black President , is available Amazon. Young Mr. Obama includes reporting on President Obama's earliest days in the Windy City, covering how a presumptuous young man transformed himself into presidential material. Buy it now!