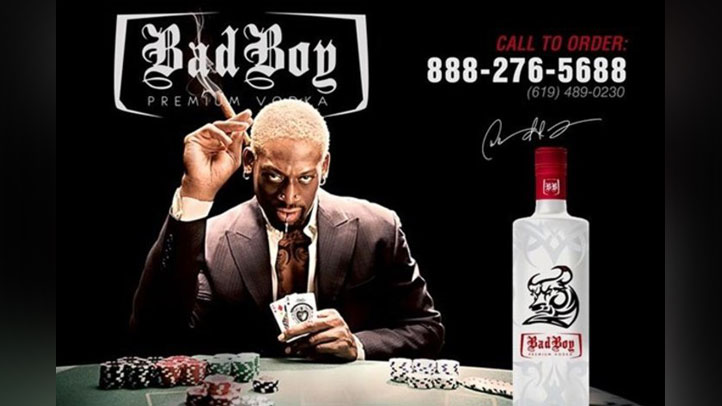 NBA Hall of Famer Dennis Rodman plans to capitalize on his bad boy reputation by launching his own signature line of vodka later this month.
The hooch is aptly labeled Bad Boy Vodka.
"Bad Boy Vodka characterizes a tough and edgy, yet smooth and classic taste; a perfect representation of whom and what I am all about," Dennis Rodman said in a press release.
The former Chicago Bull and 5-time NBA championship — and wannabe diplomat — joins a long list of celebrities launching or endorsing wines and spirits.
Rodman worked with Bonita, Calif.-based Premiere Brand, Inc. to develop the beverage.
Premiere Brands calls the Bad Boy Vodka bottle a "work of art" because It features a bull with red horns and a frosted bottle that will make you think of tattoos.
Bad Boy Vodka's website features information about the $20-per-bottle vodka that's double stilled from wheat and made in California as well as a message from Premiere Brands about contacting Rodman: "Call us and if you buy 1,000,000 bottles we will arrange for a date with him."
Bad Boy Vodka will be released in California on July 27.