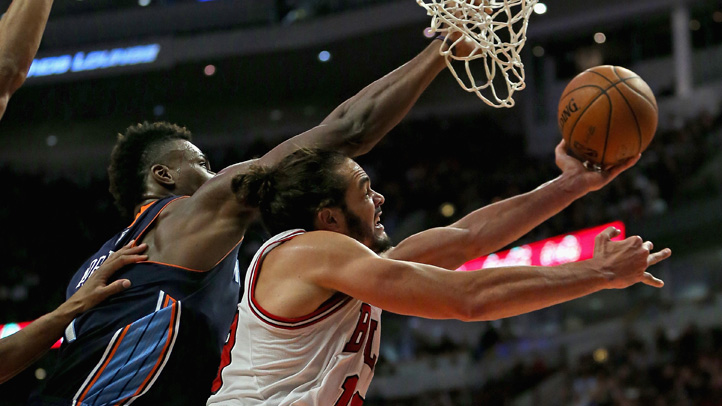 Luol Deng scored 21 points and the Chicago Bulls overcame a rough shooting night to beat the Charlotte Bobcats 86-81 on Monday for their fifth straight win.

Carlos Boozer had 12 points and 17 rebounds for Chicago, which is on its longest winning streak since taking eight in a row from Feb. 20-March 7, 2012. Jimmy Butler had 14 points and Derrick Rose finished with 12.

Deng's 3-pointer with 27.1 seconds remaining gave the Bulls an 85-81 lead. Gerald Henderson then missed for the Bobcats, and Rose had a free throw to help Chicago wrap it up.

Rose, who hit a career-high six 3-pointers in the Bulls' 110-94 win Saturday over Indiana, went 4 for 13 from the field. The Bulls shot 27 of 75 (36 percent) overall.

The 2011 NBA MVP played 31 minutes in his second game back after missing Chicago's win at Toronto on Friday with a sore right hamstring.

Butler missed part of the game with a right toe injury but came back with 6:35 left in the fourth.

Charlotte was looking for its fourth consecutive road victory and third in four games overall, but it was unable to take advantage of the Bulls' poor shooting. Once again, the Bobcats struggled from the floor despite a strong effort in the paint.

The Bobcats were shooting a league-worst 40.2 percent from the field coming into the day, and they were 28th from 3-point range at 29.3 percent. On Monday, they shot 36.3 percent as a team.

Playing without injured center Al Jefferson, the Bobcats outscored the Bulls 38-28 in the paint.

Jeffery Taylor led Charlotte with a career-high 20 points and Henderson had 16 in a game that featured two of the league's top defensive teams. Entering Monday, the Bulls were third in opponents scoring at 90.0 points per game, while the Bobcats were fourth at 93.6.

Jefferson missed his third consecutive game with a bone bruise in his right ankle. Coach Steve Clifford said he hopes Jefferson can play Wednesday against Brooklyn, but he will more likely play Friday against Phoenix.

Jefferson, who signed a three-year, $40.5 million contract with the Bobcats in July, has played in three of Charlotte's 11 games and is averaging 15 points and 8.7 rebounds.

And for a while, it looked as if Charlotte would be fine without Jefferson.

Charlotte trailed by as many as 10 early on but took a 42-40 lead with 2:18 left in the first half on a Kemba Walker layup, and led 44-40 at halftime. The Bobcats forced 10 Chicago turnovers in the first half while committing only two of their own.

The Bulls moved in front again with 8:52 left in the third on a Joakim Noah basket and kept the advantage the rest of the second half.

A Henderson 3-pointer made it 80-79 with 1:27 left but Rose responded with a layup. Henderson then made two free throws with 51.3 seconds left.
Copyright AP - Associated Press