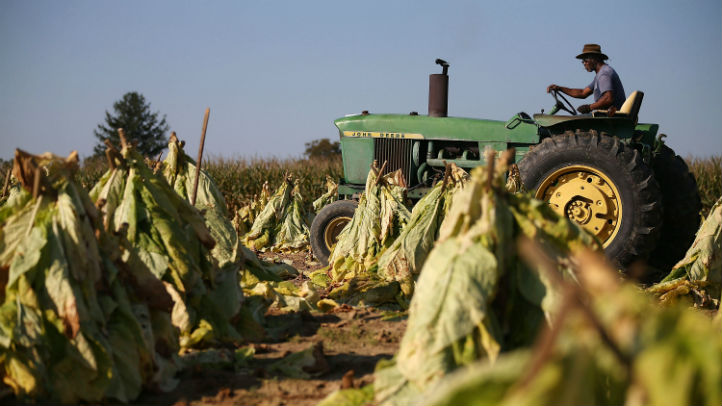 Agricultural equipment maker Deere is laying off about 460 employees indefinitely from an Iowa tractor factory as it continues to adjust to market demand.

The Moline, Illinois, company said Friday that the latest round of layoffs will be effective Oct. 20. Deere said last week that it would lay off more than 600 employees at four Midwest factories that make harvesting and other agricultural equipment due to slumping demand.

The latest layoffs will happen at the company's Waterloo, Iowa, operations. Last week's announcement involved factories in East Moline and Moline, Illinois, as well as Ankeny, Iowa, and Coffeyville, Kansas.

The company also said last week that it was implementing seasonal and inventory adjustment shutdowns and temporary layoffs at those factories as well as one in Ottumwa, Iowa.

Deere's third-quarter profit dropped 15 percent as sales weakened, and the company said earlier this month that it planned to reduce agricultural equipment production for the remainder of the year. The company had hired several hundred manufacturing employees in recent years to meet demand for products made in its Midwest factories.

"We match the size of our manufacturing workforce with market demand," spokesman Ken Golden said on Friday.

Deere & Co. is the world's biggest farm equipment supplier and employs about 31,000 people in the United States and 67,000 overall.

Company shares fell $1.37 to $84.84 in Friday afternoon trading while the Standard & Poor's 500 index was nearly flat.

Here's why the company says it needs to lay off workers and why it's significant for Iowa.
The layoffs are in the farm equipment manufacturing division, as farm income is expected to drop this year on lower corn and soybean prices, discouraging farmers from buying expensive equipment. It reverses significant hiring in recent years as Deere saw sales grow because of increasing farm profitability. Deere said last week that operating profit from its agriculture and turf sales fell 30 percent in the third quarter from a year ago. Sales from that business in the U.S. and Canada are expected to be down 10 percent for the year.
Iowa exported $1.2 billion worth of tractors and nearly $1 billion in other heavy equipment and parts in 2013 made by Deere and other manufacturers. Manufacturing jobs are 13.8 percent of the state's total employment and Deere is one of the state's largest manufacturing employers, so significant job cuts in the sector will have an economic impact.
Deere has about 14,000 workers in Iowa, and a global workforce of about 67,000. Factories in Ankeny, Ottumwa and Waterloo are tied closely to the farm economy, while the Dubuque and Davenport plants make construction and forestry equipment, a sector that climbed 81 percent in operating profit in the third quarter, due in part to a rebounding housing industry. Sales in construction and forestry are expected to climb 10 percent this fiscal year.
Copyright AP - Associated Press