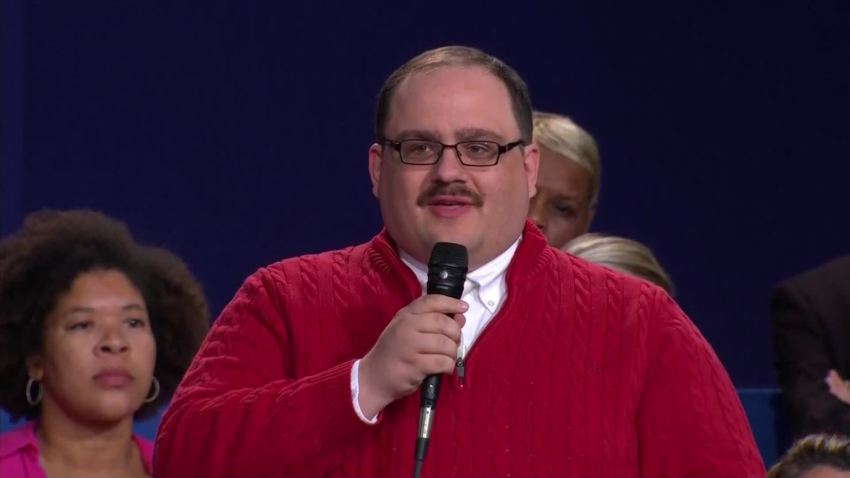 Kenneth Bone, who became an instant meme after Sunday's second presidential debate, is backing the Chicago Cubs in the postseason, according to the Chicago Sun Times.
Bone, who lives on the Missouri border in downstate Illinois, chose to support the Cubs after his beloved St. Louis Cardinals failed to make the playoffs this fall.
"I'm not going to bear any animosity at the Cubbies," Bone told the Sun-Times. "They've had a tough run of it."
Unfortunately, Bone was forced to cut the interview short before responding to a question about whether he'd turn up at Wrigley field during the Cubs' playoff run.
With the help of a red "Christmas" sweater, black-framed glasses and a disposable camera, the coal plant supervisor was propelled to social media fame during the second presidential debate Sunday night.
"It was a surreal experience," he told NBC 5's affiliate station in Dallas Monday morning by phone.
Bone was one of eight audience members who posed questions to Donald Trump and Hillary Clinton at Sunday's town hall debate. His question focused on energy policy, an issue close to his community.
"I work in coal-fired electricity and it's a big concern where I live in southern Illinois, the St. Louis metro area," he said. "We have a lot of coal workers in power and coal mining and the perception is we're putting money ahead of the environment, and that's not true."