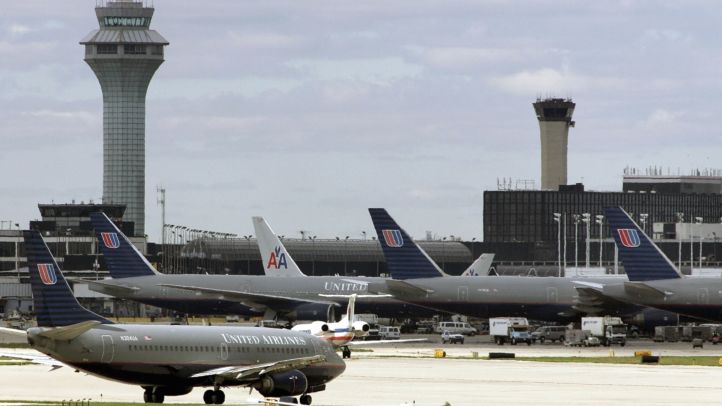 A Portland, Ore.-bound flight made a "level two emergency" stop in Chicago Tuesday night after passengers said three men, reportedly of Middle Eastern descent, were acting strangely, even fighting with flight crews.
At least one of the men walked back to the area of the plane where flight attendants work, laid down and began complaining of illness. That man engaged in "some sort of altercation" with the flight attendant, a passenger said.
At one point another man, who was pacing back and forth in the aisles, also got into a "verbal altercation" with a flight attendant, according to a passenger.
Other men of "Middle Eastern descent" were passing notes and "writing in their notebooks," a source told NBC Chicago.
United contacted officials at O'Hare and alerted them that the flight, which originated in Washington D.C., would stop. The flight was diverted to Chicago.
Three passengers were removed from the aircraft, and the remaining passengers were re-screened through security, before being sent on their way.
Passengers arriving at Portland told NBC affiliate KGW they were aware of problems during the flight. Cliff Robinett described the incident as "strange goings on in the back of the plane."
Another passenger, Lydia Omelchenko, said the three individuals removed were "strange people."
Robinett said the man was lying on the floor in the back of the plane did not speak English, and an interpreter had difficulty translating. Robinett said a doctor on the plane also tried to assist the passenger.
He said three men got off the plane, one of them ill. No one knew what was happening at the time, including TSA officials in Chicago, he said.
Stacy Niedermeyer of Southwest Portland was on the flight with her husband and four children.
Niedermeyer said one of the men went to the back of the plane and "sat down on his bottom." Some type of heated altercation took place.
Lydia Omelchenko said passengers knew something was amiss and were texting about the incident. She reported that two men, one of them young, left the plane and neither looked ill.
Other passengers interviewed did not wish to be identified. One passenger said a man with a backpack was pacing back and forth and got into an argument with a flight attendant.
Another said she understood it was some type of medical issue and despite it all, she never felt unsafe.
United spokesman Rahsaan Johnson refused to elaborate Wednesday morning on the reasons for the passengers' removal other than saying "they were not following crew member instructions."
"It was agreed they should not continue on to Portland." Johnson said the crew and passengers spoke with law enforcement on the ground. A Chicago police spokesman professed no knowledge of the incident and said officers at O'Hare were not contacted.
The flight was diverted to O'Hare at 7:30 Tuesday night, then left Chicago for Portland at about 11 p.m. and arrived at 3 a.m. Chicago time.