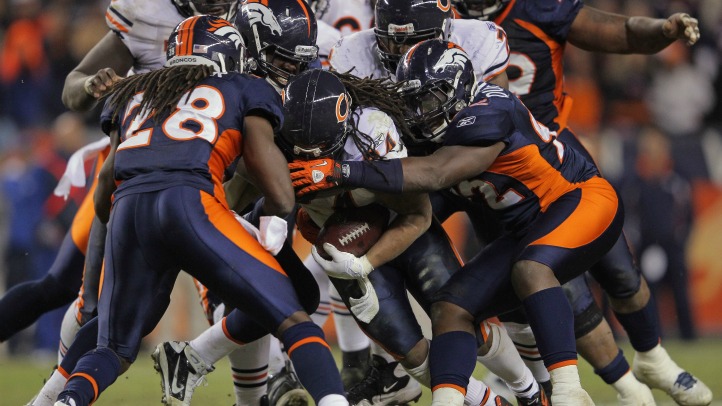 Good teams win games. Bad teams lose games.
That may seem like an oversimplification, but it's true. The good teams find a way to win. Weather? No matter. Turnovers? Steal the ball back. Penalties? Rally for that first down. That's what the good teams do.
The bad teams let little things derail them. And big things rip the hearts out of their chests like that scene from "Temple of Doom."
If you looked at any video of the Bears in the locker room after Sunday's game, the players looked like they'd all been concussed. Glassy stares. Monotone voices. They've fallen into despair. They've forgotten how to win.
When you're up by three with less than two minutes to go, with possession and with zero timeouts on the opposing sideline, you should win. Winning teams win in that scenario. Get a first down, take three knees, enjoy your victory.
Smart players know that the only thing you cannot do is stop that clock. No dropped passes. And definitely do not go out of bounds. When Marion Barber's body fell on the wrong side of that white stripe, he reacted like Chris Webber after calling that fateful timeout.
At least for Webber, his misery was the result of one mistake.
Barber had a shot at redemption. Instead, he doubled down on the failure. Fumbles happen to the best in the game. But if you've already hosed your team by falling out of bounds, you need to make up for that goof by playing doubly hard.
There's the difference between Marion Barber and Tim Tebow. Tim Tebow can throw passes into the dirt for three quarters. But he turns it on when he needs to. And he wins. Does anyone in Denver care that they're winning ugly? No. They're probably going to the playoffs. If every Bears game ended in a one-point victory, you'd be ecstatic.
This season was pretty much toast when Jay Cutler went down. Caleb Hanie had to be the goat for a few weeks. Then Matt Forte blew a wheel. Now it's Barber's turn to suffer the wrath of the Soldier Field faithful.
Only three more games, Bears fans. Come Dec. 25, wrap yourself in a Derrick Rose jersey and enjoy a team that knows how to win.