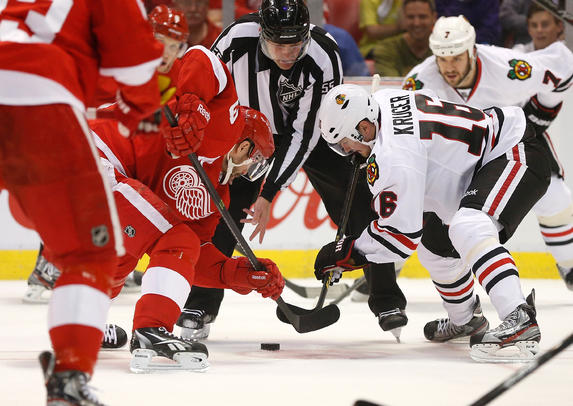 The Chicago Blackhawks will look to build off of Tuesday's win over the red-hot Tampa Bay Lightning when they travel to the Motor City to tangle with their long-time rivals the Detroit Red Wings.
Like the Blackhawks, the Wings have been struggling a bit as of late, losing four of their last five games, but there is some reason for optimism for Detroit. After two games on the shelf with an injured groin, Pavel Datsyuk will return to the Wings' lineup against Chicago, and with linemates Justin Abdelkader and Tomas Jurco, he will provide a unique challenge to the Blackhawks as they try to continue their recent run of solid defensive play.
The big challenge for the Blackhawks in this game will be keeping Detroit's power play in check. Over the past three games, the Wings have scored on six of their last 13 power play attempts, and even without Datsyuk they are still finding open shooting lanes and getting good chances on goal. Adding him back to the mix will make the challenge even greater for Chicago.
Fortunately for the Blackhawks, their penalty killing unit remains the best in the NHL, as they've killed off 15 of their last 16 power plays against. Marcus Kruger and Jonathan Toews remain the backbones of the penalty killing group, with their aggressive forechecking abilities and their ability to tie up on face-offs helping the Hawks to milk precious time off the clock. Brandon Saad and Ben Smith are both emerging as solid killing wingers as well, with Smith especially showing good chemistry with Kruger on the top line.