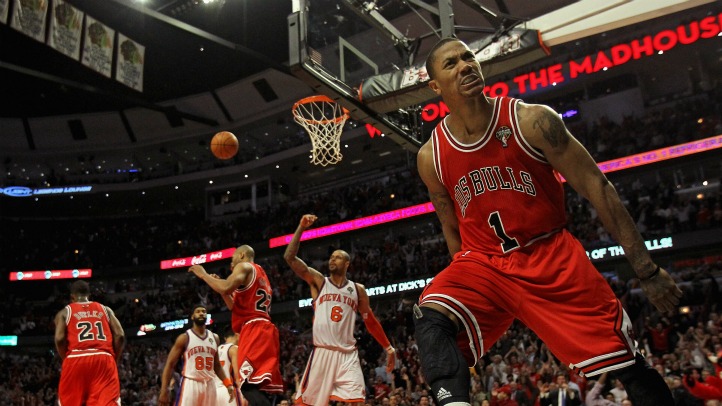 It's safe to say that sitting out an entire season has caused some to lose confidence in Derrick Rose. It seems odd that a former No. 1 overall pick, Rookie of the Year, three-time All-Star and MVP would have to prove himself to anyone, but that's the situation the Bulls star finds himself in as he prepares to take the court once again.
Despite those who doubt he will ever be the same after injuring his knee more than a year ago, D. Rose says he's more confident now than he ever was and he's ready to prove as much on the court.
"My confidence grew as a player and you'll see that when I play," Rose said Sunday at the United Center during the official launch of his latest signature shoe with adidas. "I've been feeling that way for a long time. If anything, just putting that memory back in my leg, working out every day, just trying to strengthen my leg, that's the biggest goal. But I'm past that. I'm in training. While I was in L.A., the last month or so, I think I was working out three times a day, just trying to get back on the right track."
Despite a hectic international travel schedule that took him to Asia recently, and with training camp starting at the end of the week, D. Rose continues to be relentless in his training as he prepares for the upcoming season and seems to be in a good place both physically, and mentally.
"Right now, I'm good. Right now, I'm training, working out every day. I call it, like, 'Freshie Hell Week,' where I've got a week of training. My trainer's here -- Rob [McClanaghan] -- and he's really just pushing me every day, just trying to get me ready for training camp," Rose said. "Me changing my diet is allowing me to have so much energy and really helping me with my training because I'm going into my training, working hard and the next day, not being sore, and still working hard at the same time, pushing myself. I think it's allowing me to become a better player."