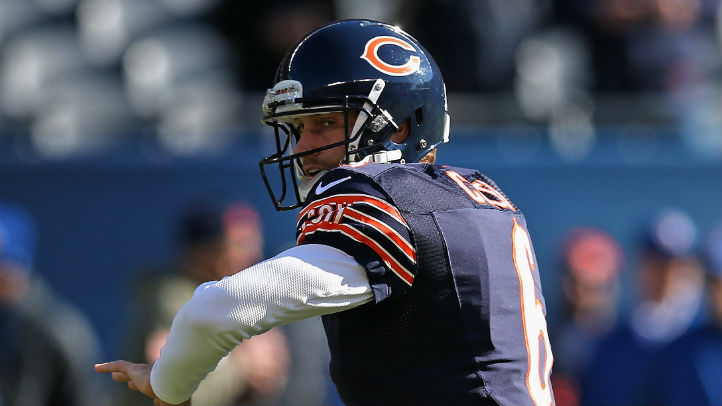 Sunday afternoon will be the biggest game of the season for the Chicago Bears as they take on the Green Bay Packers, but there is one player in particular that is facing perhaps more pressure than any other man on the field.
That man is free-agent-to-be Jay Cutler, who will not only be trying to help lift his team into the playoffs with an NFC North championship, but will also be looking to once and for all silence critics who have been dogging him all season long after the exploits of Josh McCown during Cutler's absence with an ankle injury.
Cutler was the recipient of some unfair criticism from many corners this week after the Bears' embarrassing 54-11 loss to the Philadelphia Eagles Sunday, with most of those who hammered away at him seeming to forget just how horrible the defense was in the game. Cutler's late pick-six seemed to fuel the fire of those folks looking to slam Cutler, and he will have a lot of work to do to overcome that kind of criticism.
As for the task at hand against the Packers, it will not be an easy one for Cutler. In eight career games against Green Bay, Cutler has only completed 55.3% of his passes while throwing nine touchdowns and 16 interceptions, by far the most picks he has thrown against a team. Cutler has also been sacked 30 times in those games, so it's pretty clear that AJ Hawk and company will have it in for Cutler in this one.
There are a couple of things working in Cutler's favor this week, however. For starters, Cutler will not have to face the Packers' executive quarterback harasser, as Clay Matthews will sit out the game with a thumb injury. Add to that the fact that the Bears have an offense line that has become pretty adept at keeping Cutler on his feet behind the efforts of guys like Kyle Long and Jermon Bushrod, and life should be a little bit simpler for Cutler in the pocket in this one.
Adding to Cutler's chances for success is the offense that Marc Trestman will surely have in store for the Packers. When McCown was under center at Lambeau Field, Trestman mixed the run and pass better than he had in perhaps any other game this season, and that ability to keep the Packers off-balance was critical in what is arguably the biggest victory Chicago has had under Trestman's guidance.
Cutler is more than capable of executing that type of game plan, and while his decision making has historically been poor against the Packers, he also hasn't had the types of weapons, and the system with which to deploy them, than he has now under Trestman, and that is a big boost in a game with massive implications both for Cutler's future, as well as the Bears' playoff chances.
The real question at this point is whether or not Cutler can take advantage of all of these things working in his favor, or if he's going to once again cast doubt on his future with the Bears with a poor performance.