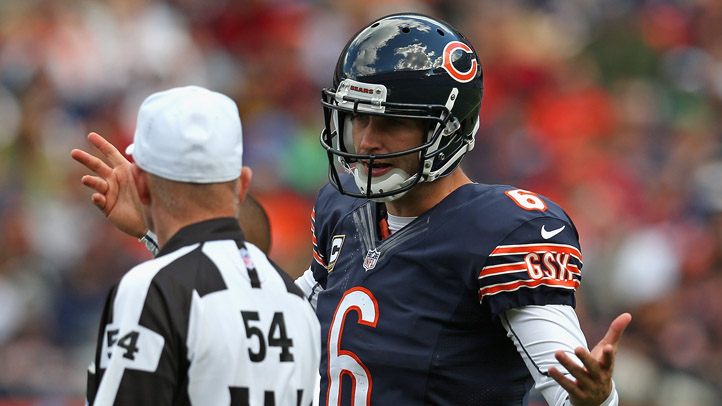 Now that the replacement refs are gone, they're talking about their experiences filling in for the NFL's real referees. On Showtime's "Inside the NFL," one said that he had an interesting run-in with Bears quarterback Jay Cutler.

If you hadn't guessed it from lip-reading his words while on the field, it turns out our QB has quite the potty mouth.

"I had Jay Cutler, when we did not reset the game clock for him after a discussion about a penalty enforcement, call me a M-F-ing replacement ref. 'Just because you are a M-F-ing replacement ref, you've got to know the f-ing rules,'" replacement ref Wayne Elliott said. "And three minutes later during a timeout, I'm standing next to him and he's got some water and he said, 'You want some water?' And I said, 'Yes, even though I'm a M-F-ing replacement ref, I'll drink your water.' And he said, 'It's all I could say to get your attention.'

Well, sometimes you do have to swear to get people's attention. And Jay was nice enough to share his water with the referee, so is it that bad?

While it seems like all we're talking about lately is Cutler's disposition, I'm ready to give Cutler a pass on this one. The replacement referees were frustrating everyone from players to fans. A f-bomb isn't classy, but it's hardly the worst of Cutler's actions.
Copyright FREEL - NBC Local Media