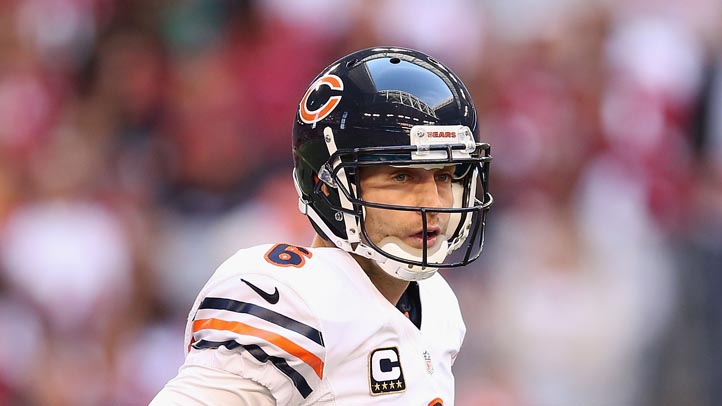 Since being traded to the Bears from Denver in 2009, Jay Cutler has learned four offenses. It started with Ron Turner, then Mike Martz, followed by last year's icy situation with Mike Tice. Lovie Smith was a defensive whiz and usually handed the offense over to his offensive coordinators with little interference.
Marc Trestman is in charge now. Not only is this the fourth offense Cutler is learning in four years, but it's also the first time in Chicago that he's dealing with a head coach calling the plays. With so much experience learning offenses, Cutler knows one thing -- it takes time to learn an NFL offense.
"Really, without even getting into it, it's a three-year process to learn an offense," Cutler said after Tuesday's practice. "It just is what it is. It's hard to go out there Year 1 and blow the doors off. But we're gonna do the best we can with the time allowed, and we'll see where we're at."
This could be Cutler laying the foundation for Bears fans to lower expectations. With a new coach and so many new players, we could be in for a bumpy ride. There is a lot of new talent in the room, so it's not the exact team who went 10-6 and missed the playoffs in 2012. They have a lot to learn, but Cutler does see the bright side of so many new faces.
"I do know that this is the most competitive locker room I've ever been in talent-wise, speed-wise," Cutler said. "We've got some guys in there that can really play football, and we've got a lot of them, which is a good thing."
Cutler pointing out the length of time it takes a team to learn an offense allows his teammates some breathing room when learning Trestman's plays. It also puts some pressure on the Bears' front office to get him a new contract. Cutler isn't usually this subtle, but he is in the final year of his contract. He's saying to the Bears that it takes time to get the offense they want, so they should make sure he's around for it.
There is one more reason Cutler said it takes three years to learn an offense, and that's because it's the truth. Though the porous offensive line and the lack of receivers have been major issues with the Bears' offense, the fact that the players are always looking at a new playbook has been a problem, too.
Cutler and his teammates will have plenty to learn this off-season, and Cutler says the team is working hard at that. They have to if they don't want to learn a whole new offense in 2014.
Copyright FREEL - NBC Local Media