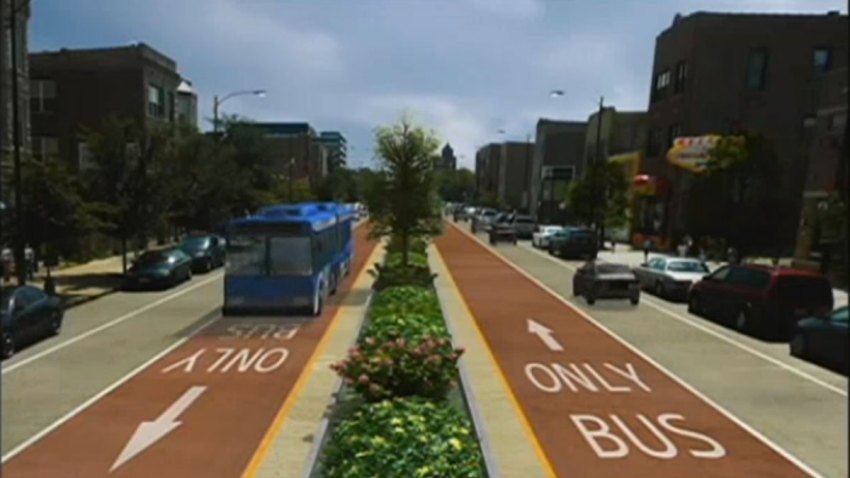 The Chicago Transit Authority is holding two public meetings this week to gather input on the agency's environmental assessment for the proposed Bus Rapid Transit on Ashland Avenue.
The controversial plan, known as Ashland BRT, includes a dedicated center bus lane in each direction on busy Ashland Avenue with stops every half-mile to speed traffic flow and reduce congestion.
The first phase is slated to be built between roughly Cortland Avenue and 31st place, and is expected to cost about $60 million.
The public meetings will be held on Dec. 10 from 6 pm to 8 p.m. at Benito Juarez Community Academy, 1450 W. Cermak Rd., and Dec. 11, from 6 pm to 8 p.m. at Pulaski Park Field House, 1419 W. Blackhawk St.
The meetings are keeping with a promise Mayor Rahm Emanuel made earlier this year that there would be "plenty of opportunities" for the public to provide input on the project. The CTA's environmental assessment analyzed the social, economic and environmental impacts of building the BRT project.
The proposed rapid transit bus lane on Ashland has generated a substantial amount of controversy, with neighborhood groups, citizens, transportation activists and others splitting down the middle on the project.
Critics say the bus-only lanes, which will restrict the ability for cars to make left turns off of Ashland, will force traffic onto neighborhood streets, reduce travel times for cars and increase truck congestion. Advocates for the project point to CTA predictions that bus ridership along Ashland could increase by as much as 30 percent and reduce average commuter time along the route by 50 to 65 hours a year.
The Ashland corridor is said to provide access to nearly 133,800 jobs, including large employment centers such as the Illinois Medical District, along with 99 schools within walking distance of the proposed Ashland BRT route.