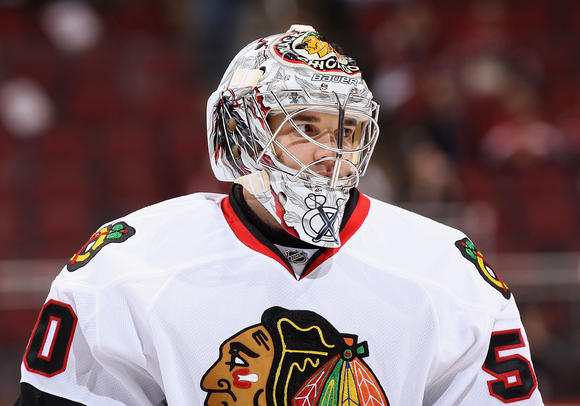 The Chicago Blackhawks are in a unique situation this season. Not only do they have a huge lead in their division, thus ensuring home-ice advantage in the first round of the playoffs, but they also have a good sized lead in the conference standings, meaning that home-ice throughout the playoffs is within reach.
With that kind of "cruise to the finish" path available to them, it isn't surprising that some fans are lashing out and trying to gin up controversy in any way they can. Head coach Joel Quenneville has obliged the fanbase with something to quibble over: he has started goaltender Ray Emery for three consecutive games, leaving Corey Crawford apologists scrambling for recognition as the tide has turned toward "Razor".
Enter Chris Kuc, Blackhawks beat reporter for the Chicago Tribune. In a column last night, Kuc argued that Quenneville should make a decision soon:
"An ideal scenario has developed during a season condensed because of the lockout, giving each netminder time to rest and stay fresh. It's also a situation that must end. There should not be – and assuredly will not be – a platoon system in place during the playoffs.
"Quenneville must choose his No. 1 – and he should choose Crawford."
Kuc's argument, which seems to mirror the argument that a lot of fans are making, is that Crawford and Emery have been very similar statistically, and that Crawford has done nothing to lose the crease. He insists that Emery is a perfect back-up for the playoffs, and that Crawford should be given the chance to regain his form in time for the playoffs.
Kuc's piece seems to gloss over the fact that Crawford has looked nothing but shaky over his past few starts. His rebound control has been atrocious, and he has failed to stop several easy shots in the process. Couple that with the performance of Emery in recent games, including two shutout victories over division rivals and potential playoff foes, and Kuc's argument loses even more steam.
Quenneville has made it a point to buck the wisdom of fans all season long. He has started Daniel Carcillo on the top two lines repeatedly in an effort to add grit and scoring punch to the lineup, and while that hasn't panned out, it shows that he is a coach that works largely based on his gut. Add to that his penchant for shuffling lines and sticking with winners when he hits a combination that works, no matter how surprising (Stalberg-Shaw-Bickell), and Quenneville has earned some leeway from fans in terms of stifling questioning of his methods.
Emery is the guy that Quenneville is currently riding, and if he continues to do so into the playoffs, then fans should buck up and accept it. There is a reason that he is the one in the driver's seat of the Jack Adams race, and it's because he has a finely tuned edge for coaching in these types of situations.

After a season of existing under the cloud of potentially being relieved of his duties, Quenneville has proven his worth to this franchise, and because of that, his judgment should be trusted. If Emery is his guy, then he should be the guy of fans too. Crawford advocates should stand down in what is truly a high-pitched battle over nothing, and save their energies for generating the animus that is necessary to a fun playoff experience.