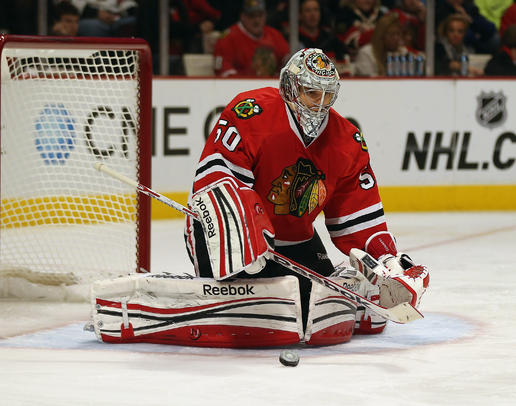 In a game touted as one of the most important of the regular season by many in the media, the Chicago Blackhawks couldn't hold on to a late 2-1 lead and lost to the Anaheim Ducks 3-2 on Wednesday night in southern California. Teemu Selanne ended up netting the winning goal with four and a half minutes left to grab the lead for Anaheim, and Sheldon Souray potted an improbable empty netter to seal it in the late stages.
We'll have plenty of reaction to this game throughout the morning here on Madhouse Enforcer, but for now, here are the Three Stars of the game for Chicago:
Third Star: Jonathan Toews
The Hawks got a great three-point game out of Toews on Monday night in Colorado, and he was equally impressive in this one. The captain had a magnificent goal in the first period, outworking several Ducks defenders and deking a great shot around goaltender Jonas Hiller for a shorthanded tally.
In addition, Toews played some stellar defense against some truly formidable Anaheim forwards and also blocked a couple shots and won 60 percent of his draws.

Second Star: Nick Leddy
We'll talk a bit more about Leddy in a post later this morning, but for his spot on this list, all you need to know is that he scored a gorgeous goal and played stellar defense.
First Star: Corey Crawford
If any Hawks player were to be honest with themselves after the game Wednesday, they would admit that the only reason the team stayed in this game was because of the stellar goaltending of Corey Crawford.
His rebound control, with the exception of a shot he fought off through traffic that led to Anaheim's tying goal, was totally superb, and his lateral movement was sharp as well. He showed no ill effects from taking a seat during Monday's game, and emphasized that even though Ray Emery has been having a stellar season, it is still Crawford's crease until further notice.