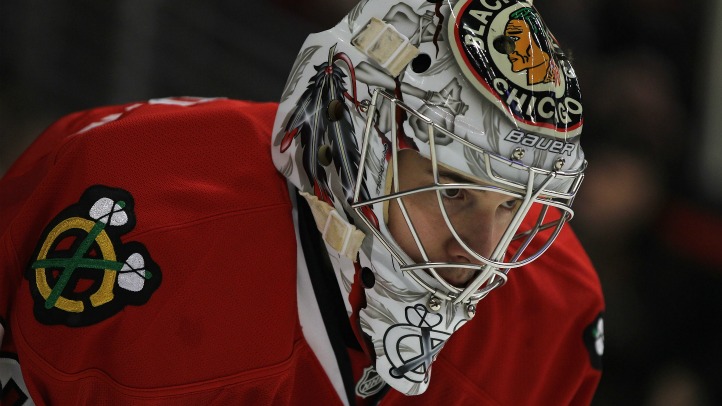 While the Professional Hockey Writers Association is in the process of concluding their voting on the various NHL awards, most of the statistical awards have already been decided. The Art Ross Trophy, given to the league's highest points scorer, went to Tampa Bay's Martin St. Louis, and the Rocket Richard, the league's highest goal total, went to Washington's Alexander Ovechkin.
The William M. Jennings Trophy, given to the team's goaltenders that give up the fewest goals in a season, was still up in the air as the Boston Bruins and Ottawa Senators battled in Boston on Sunday. The Senators, who had given up 102 goals in 47 games this season, were tied with the Chicago Blackhawks going into the game, but when Rich Peverley scored a power play goal with four seconds left in the second period, it ensured that Corey Crawford and Ray Emery would win the Jennings.
The duo, who are both sporting goals against averages of under two on the season, are the first Hawks to win the award since Ed Belfour won it during the 1994-95 season. Ironically, Belfour's award-winning campaign was also a lockout-shortened affair.

For the past few years, the league has handed out its awards at a lavish ceremony in Las Vegas, but this season, there is no such event. Even still, it is always good to see players rewarded for their hard work and success, and Crawford and Emery certainly fit in that discussion.