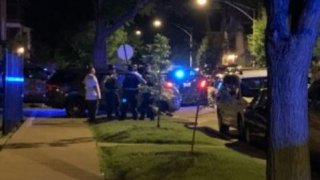 A man was charged Wednesday in connection with a fatal shooting that left a 10-year-old girl dead in Chicago's Logan Square neighborhood in late June.
Christopher Lara, 19, of Streamwood, was charged with first-degree murder and attempted first-degree murder in the shooting. Police said Lara was the driver of a vehicle that a gunman opened fire from on June 27.
The gunman was shooting at a group of people in the 3500 block of West Dickens when one of the bullets came through a window and struck 10-year-old Lena Nunez in the head as she was inside a home, according to Chief Brendan Deenihan.
"As we all know they're just spraying bullets everywhere," Deenihan said.
Police are still searching for the gunman and any others who may have been in the vehicle, authorities said.
Neighbors said they heard gunfire but believed it was fireworks.
Still, it was video and information from area residents that helped make the case, Deenihan said.
"This pulls at everyone's hearts," he said.
The child is one of 38 juveniles shot and killed in Chicago so far this year, police said.
"We cannot allow this to be normalized in this city," Chicago Police Supt. David Brown said last month. "We cannot get used to hearing about children being gunned down in Chicago every weekend."