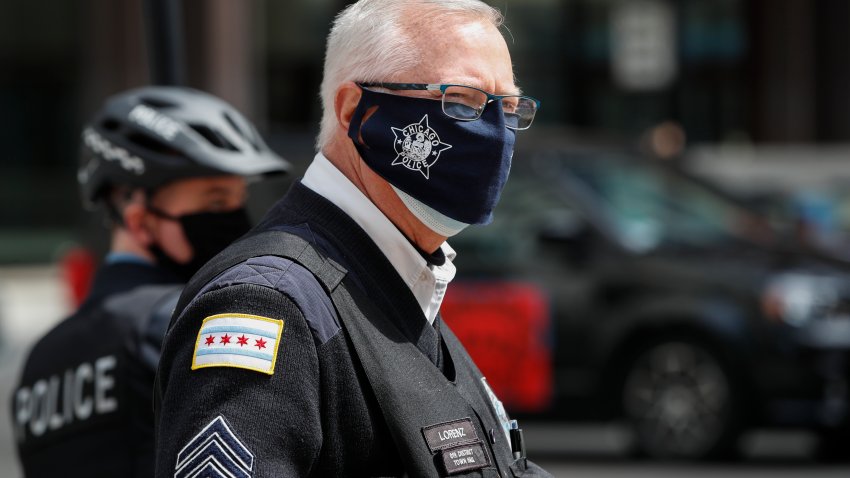 The Chicago Police Department announced a new public safety strategy to mark the start of the long Memorial Day weekend.
The department joined other city agencies "to announce an all-hands-on-deck public safety strategy in preparation for Memorial Day weekend" as the city remains under a stay-at-home order.
"This memorial day will look and feel very different," CPD Supt. David Brown said. "Large backyard barbecues will be scaled down to those living in a single household, we wont have any baseball either and going for a bike ride or to the lakefront with our friends will be ruled out."
That strategy includes the formation of a "summer operation center," which Brown said will bring together city resources from police, fire, streets and sanitation, the park district and more.
The operation center will open every weekend in the summer from Thursday evening to Monday morning through mid-September.
"Chicago police will be visible and present in our neighborhoods this weekend and throughout the summer," Brown said, adding that the department will be watching for large group gatherings in violation of the statewide order.
Bike teams and marine units will also be patrolling the lakefront to continue enforcing the closure, he added.
"Chicago came together to fight this virus and we are joining together to save lives," Brown said.
The long holiday weekend has previously marked a spike in violence for the city. Last year, at least seven people were killed and 33 others wounded by gunfire in the city.
"Memorial Day did not sneak up on us," Brown said. "CPD is prepared to safeguard this city and we will do it together"
CPD also on Friday launched a new operation aimed at bringing "a comprehensive amount of resources" to Chicago's North Lawndale neighborhood. Those resources include fixing broken streetlights and potholes, repairing damaged buildings, removing unwanted graffiti and cleaning empty lots.
The department also plans to "retool" its crime-fighting strategy "to be more effective in addressing the root causes of violence head-on," the mayor's office said in a release.
"To build on these efforts amid the COVID-19 pandemic, the Chicago Police Department and Mayor's Office of Violence Reduction continue to work with the violence interrupters, block clubs and street outreach organizations on the ground in Chicago's neighborhoods to ensure they have the public health resources, supports and latest Stay-at-Home Order guidance needed to amplify our efforts and keep residents safe and healthy," the release stated.