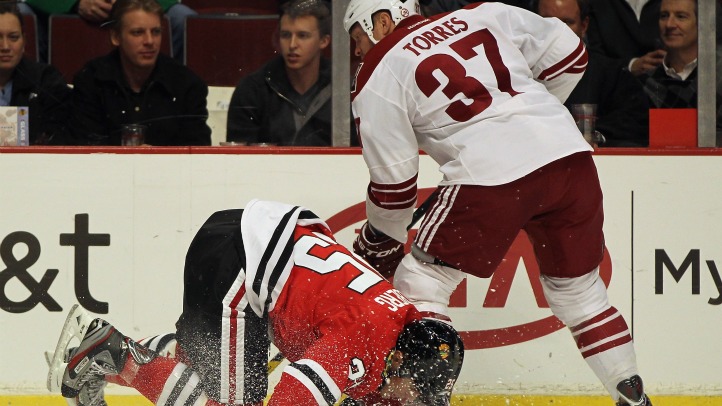 The excuse was all ready to be dusted off. It started during the game in L.A. and continued all through Tuesday's match against the Coyotes: "The first game after a trip is one of the toughest they'll face."

While i don't usually grab at such ready made excuses, this one seems plausible. But not just for being the first home game after a long trip.

After the Alberta debacle, the Hawks poured so much effort and emotion into the California swing of the trip that there probably was going to be a letdown. You can't just come out with that vinegar every game of 82. The Hawks were for once just flat.
But effort level or emotion doesn't cover it all. The Coyotes came in and played a perfect road game, and it showed what the Hawks will struggle with in the future.

When teams force the Hawks to play an ugly game, especially here at home, they lack the furious fore-checkers to retrieve in the offensive zone. Not helping matters is that Mike Smith is one of the better puck-handling goalies in the league and easily sent a lot of dump-ins the other way before the Hawks had even dialed in the location of the puck.
The Hawks also were sloppy in their own zone, and the only charge that makes the Coyotes move is mistakes in the defensive zone. The Hawks provided four of them, from a soft goal from Crawford to defensive hiccups from Niklas Hjalmarsson and Nick Leddy. Those were cracks we'd already diagnosed as needing caulk in the Hawks wall, and they got slightly bigger Tuesday night.
Still, one loss.

It's discouraging that the Hawks lose so badly when they lose. It's hard to figure out why. It might have something to do with this team, at the moment, having a top and having a bottom, but no middle. The top can carry them through most nights, when Toews or Hossa or Kane feel like winning it on one end while Keith and Seabrook lock it out at the other. But when they don't, the bottom isn't good enough to support right now. All the players they counted on, Bryan Bickell, Michael Frolik, Hjalmarsson, and Leddy, are struggling in different areas. And Dave Bolland is either hurt or not interested. Or both.
Nothing to panic about, everyone will feel better if there are two wins over the Isle and Blues this weekend.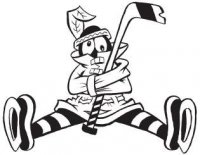 Sam Fels is the proprietor of The Committed Indian, an unofficial program for the Blackhawks. You may have seen him hocking the magazine outside the United Center at Gate 3. The program is also available for purchase online. Fels is a lifelong 'Hawks fan and he also writes for Second City Hockey .