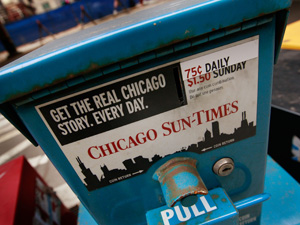 Someone hasn't been doing their fact-checking.
A Chicago couple is suing both the Sun-Times and the New York Post for writing articles last year linking them to a failed botanical garden sponsored by President Barack Obama, the Chicago Tribune reported.
Kenny and Karen Smith filed a lawsuit in Cook County Circuit Court on Tuesday claiming the two papers published false and misleading statements that ended up harming their reputations, as well as that of their not-for-profit Chicago Better Housing Association.
In September 2008, the Sun-Times wrote about an investigation being conducted by the Illinois attorney general's office into whether the couple had misspent any of the $100,000 grant Obama – then state senator – had awarded to the couple's housing association to create a botanic garden in the Englewood neighborhood.
In the lawsuit, Smith denied ever being an "Obama 2000 congressional campaign volunteer," as the Sun-times reported at the time. Smith said he only donated $500 to that year's unsuccessful campaign against Rep. Bobby Rush (D-Ill.).
The New York Post was included in the lawsuit for running a similar story just after the Sun-Times, the Tribune reported.