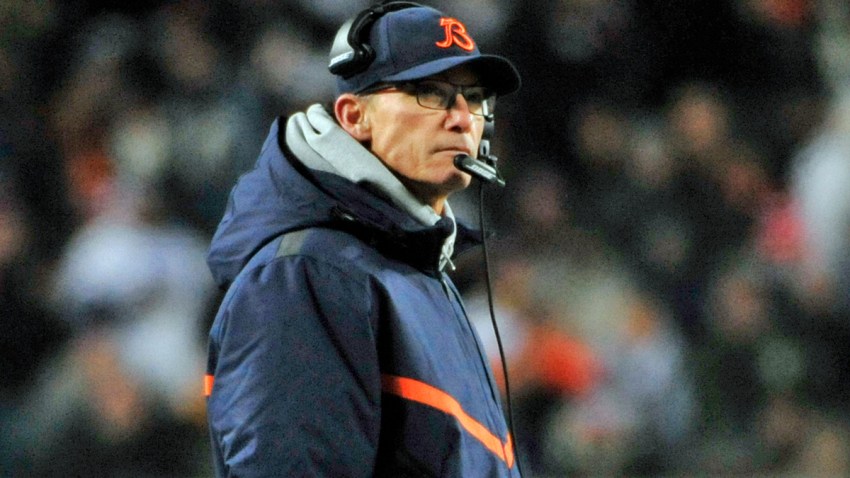 The Chicago Bears only fired him one week ago as their head coach, but according to reports, Marc Trestman is already on the prowl for new employment.
Just a few days after he was spotted in Clearwater, Florida sitting poolside with former Bears quarterback Josh McCown, Trestman interviewed with the Tampa Bay Buccaneers for their offensive coordinator position, according to NFL Network's Ian Rapoport. The team let go of former coordinator Jeff Tedford in early December, and with Trestman's reputation as an offensive guru, as well as his relationship with McCown, it makes sense to bring him in for a conversation.
If Trestman ends up being hired in Tampa, it would mean that the Bears' last two head coaches will be on the same sideline. Lovie Smith was hired as the Buccaneers' head coach before the 2014 season, and even though his team finished 2-14 and ended up with the number one overall draft pick in the upcoming NFL Draft, he still is employed and will be looking to guide the Bucs through the NFC South next season. [[274126611, R]]
The real question for the Buccaneers is whether or not Trestman is a good fit. Looking at the pieces involved, the answer to that question could be yes. Trestman did well with two big receivers during his first year in Chicago, and Vincent Jackson and Mike Evans certainly fit that bill. If he's able to work with McCown, or if the Buccaneers elect to draft Oregon quarterback Marcus Mariota with the top pick in the draft, that only adds to the potential that he could be a success for the team, and that's a big part of the reason why they interviewed him.
[NATL] Celebrities in the Stands