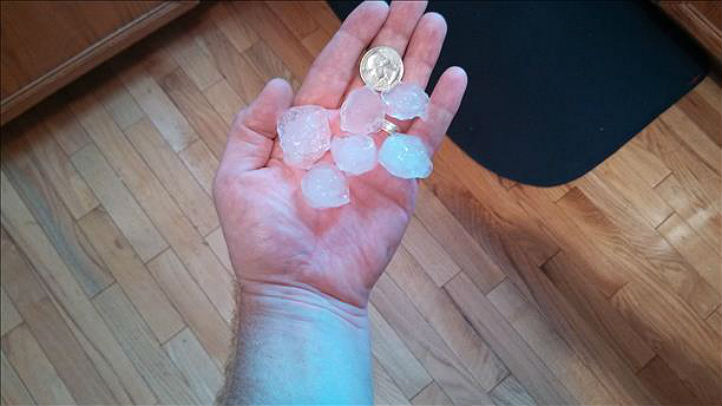 For those who don't like high heat and humidity, Thursday should feel a whole lot more comfortable.

A front that passed through the Chicago area during the evening rush a day earlier brought the first big rain in several days and forced temperatures and the dew point to more comfortable levels.

That downward trend will continue throughout the day Thursday, with temperatures landing in the upper 70s. Expect upper 60s by Friday.

Some areas could see some lake-effect showers on Thursday and Friday, but so far, the weekend is looking dry with comfortable temperatures right around 70 degrees.

Wednesday's quick-moving cold front brought high winds and golf ball-sized hail to parts of the metropolitan area. The southwest suburbs appeared to front the most. Golf ball-size hail was spotted in Bolingbrook around 3 p.m., and 60 mph wind gusts were reported. More than half an inch of rain was reported in some areas, with .67 inches recorded in Oswego.
The storms came after days of high heat and elevated humidity. Wednesday's high temperatures forced some Naperville schools to cancel classes for a second day.

Though staff members were ordered to report to work, Indian Prairie School District 204 officials canceled classes at a number of elementary schools. Classes also were canceled at Indian Plains, the district's alternative high school.

Chicago Public Schools officials encouraged parents to keep their kids in school as the district follows heat protocol measures "to provide comfortable environments for instruction and school activities."

Temperatures reached 95 degrees in some locations Tuesday afternoon, matching a record set 30 years earlier. Humidity levels weren't as high as Monday, keeping heat index readings only a few degrees above the actual temperature, but that didn't make it any easier for some.

A Chicago firefighter was transported in good condition for heat exhaustion after battling a blaze on the 3600 block of North Wayne.


Credit: George Mycyk

Gov. Pat Quinn urged residents to take advantage of the state's cooling centers and to take precautions to stay cool. Cooling centers can be found by visiting KeepCool.Illinois.gov or by calling
the Illinois Department of Human Services hotline at 800-843-6154. The centers are open from 8:30 a.m. to 5 p.m.

On Monday, O'Hare International Airport clocked an afternoon high of 92 degrees, falling short of the record 95 set in 1983. With elevated humidity, conditions were uncomfortable in most of the area.