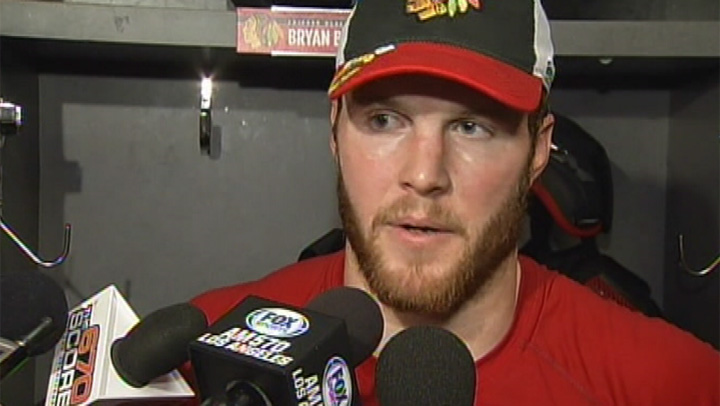 Throughout the Stanley Cup playoffs, fans and media members covering the Chicago Blackhawks have been torn in an epic struggle between celebrating the exploits of Bryan Bickell, and wistfully thinking about how he'll be on his way out after the postseason ends.
The reason for this line of thinking is simple: Bickell makes $600,000 for the Blackhawks this season, and with the salary cap in 2013 set at $70.2 million, his is an especially high-value deal. Unfortunately, not only will Bickell's salary likely exceed the $3 million mark in 2014, but the salary cap will fall all the way down to $64.3 million next season.
That confluence of events has most people writing off Bickell's future in the Windy City, but there is one particularly powerful person in Chicago that isn't ready to toss a shovel-full of dirt on the grave just yet:
Chicago Blackhawks General Manager Stan Bowman.
In that vein, here is what he had to say to Mark Lazerus of the Chicago Sun-Times:
"We'll do everything we can to bring him back. Bick and the organization go back a long ways. He was in and out of the lineup a lot, was inconsistent as a young player, and we had a hard time figuring it all out. So I think back to all those years, Bryan and I have had a lot of discussions over the years on how we can help him be a better player.

"We've had a lot of history together, and we certainly want to continue that. If anything, we're excited for him taking the next step, cause he's always had that potential."
Bowman also told the media that the team isn't going to have to undergo the kind of roster turnover that they did following the 2010 championship, alluding to the exodus of players like Dustin Byfuglien and Andrew Ladd from the roster necessitated by huge pay increases that went to players like Patrick Kane and Jonathan Toews.
"We won't have the exact same team back," Bowman told Lazerus. "It's an understandable concern. But if you look at the number of changes we'll make relative to that year, it won't be close."
Obviously Bowman isn't going to come right out and say that the Hawks are going to cut Bickell loose after the season, and there's always the possibility of deception (similar to what Chicago Bears GM Phil Emery did with offensive lineman Gabe Carimi this week), but it's still an interesting story that the Hawks are considering keeping Bickell on the roster.
Whether that means trading a guy like Dave Bolland or amnestying a player like Steve Montador or Rostislav Olesz, it will be interesting to see how Bowman could position the team to bring Bickell back, especially if Bryan doesn't take a hometown discount of some kind.