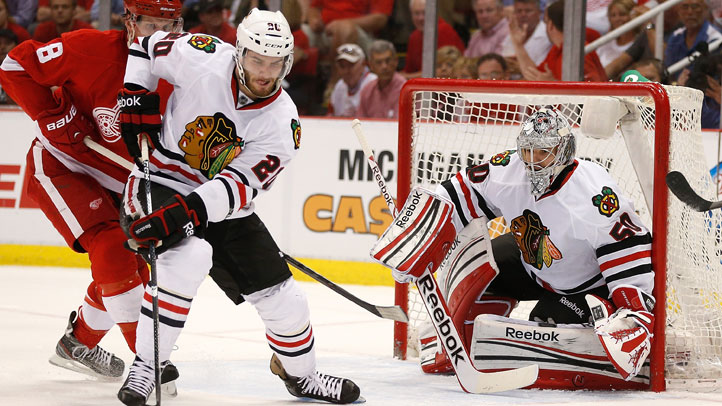 It seems like Chicago Blackhawks fans aren't the only ones feeling bullish on Corey Crawford lately.
Apparently Las Vegas oddsmakers are as well. According to Mark Lazerus of the Chicago Sun-Times, Crawford is currently sporting 11/2 odds of winning the NHL's Conn Smythe Trophy, given to the MVP of the Stanley Cup playoffs. He shares that number with Pittsburgh's Sidney Crosby, whose Penguins are viewed by Vegas as the favorites to win the Stanley Cup, with 3/2 odds.
Lazerus also had odds for a couple other Blackhawks players too:
Corey Crawford and Sidney Crosby are co-favorites to win the Conn Smythe at 11/2. Hossa is 15/1, Sharp is 15/1, Toews is 25/1. #Blackhawks — Mark Lazerus (@MarkLazerus) May 31, 2013
The Blackhawks, for the record, are 12/5 to win the Cup, making them the secondary favorite out of the remaining four teams in the postseason.
Obviously, betting odds don't mean much of anything when it comes to actually playing the games on the ice, but the love for Crawford is well-deserved despite the complaints of some. He helped the Blackhawks defense to limit the Red Wings to only seven goals in the final four games of their second round series, and he was just as good in the first round, holding the Minnesota Wild to only seven goals in five games.
He also has to be given some of the credit for the team only allowing one power play goal in 13 playoff games, and anyone doubting that needs to watch footage of the Wings' opening power play in Game 7. They were on-point with every pass they had, and as a result they got a slew of good scoring opportunities. Crawford shut all of them down, and didn't allow netfront traffic to psych him out.
Crawford may be low man on the totem pole between the pipes in a series against Jonathan Quick, but despite that, he is coming into his own during these playoffs, and he might surprise even more people as the Western Conference Finals get set to begin.