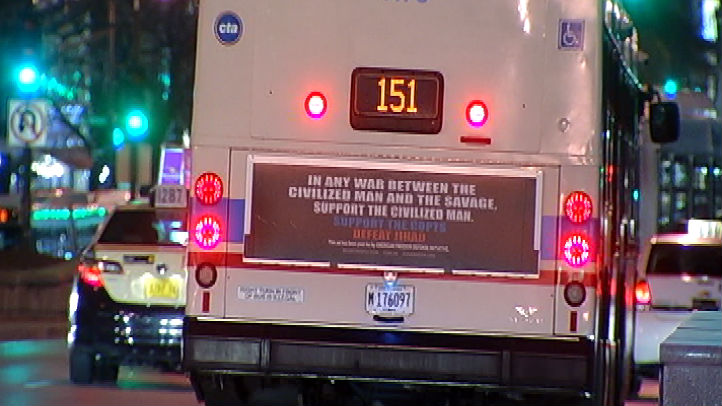 A local Jewish organization wants a controversial new advertisement seen this week on Chicago Transit Authority buses boycotted and taken down.

The ad, being called "disgusting" and "hateful" by the Jewish Council on Urban Affairs, reads: "In any war between the civilized man and the savage, support the civilized man. Support Israel. Defeat Jihad."

It began appearing Wednesday on 10 CTA buses throughout the city. The project was financed by Pamela Geller, a blogger known for her conservative views, and her organization, American Freedom Defense Initiative.

"It insinuates that Islam is a violent religion, which it isn't," Asaf Bar-Tura of the Jewish Council on Urban Affairs said.

"These ads are meant to create false divisions among our communities, generating suspicion and animosity," Judy Levey, executive of the JCUA said in a statement on the Chicago-based group's website. "It is very important to say in a clear voice, 'not in our city.' We're better than that."

The ads already have appeared in New York City, Washington, D.C. and Detroit, and though the CTA has stated it does not support the ad's message, it has been protected by the First Amendment in other cities.

Geller wrote on her blog that the ads are "calling for support of persecuted minorities" and asks for donations to keep the ads up and running.

The JCUA is taking to social media to ask for support on its end, sending out pictures with captions like "No place for hate in my Chicago" and "Islama-phobia offends my Jewish values."