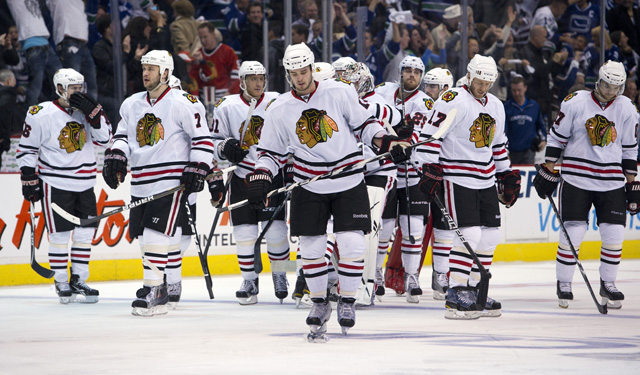 In the end, it seems like such a trivial way to lose.
The Hawks were 18 inches from a better-placed Patrick Sharp shot to take this early in OT. They were 18 inches from a better Chris Campoli clear from not being ousted right then and there. But in playoff hockey, when things get so tight and space is fought for by a prison knife-fight, such things are decided on such margins. The Hawks got their side of the coin called on Sunday. They didn't on Tuesday.
I'm sure a lot of Hawks fans couldn't sleep last night, or are in terrible moods today. I don't think I find myself in that category. Game 7, overtime, against the league's best team (or so the points tell us), that's as far as this train goes. You can't take it any farther, and a bounce here or there and you're the ones celebrating.
Sure, the Hawks probably shouldn't have ever been this far. Needing a favor in the very last game of the never-ending desert of the NHL season that they weren't even involved in, going down 3-0. They certainly could not have made it any harder on themselves. But they proved they belonged in the playoffs, proved that they still were the champs and had to be taken out. They certainly earned their berth in the postseason, if only after the fact.
You couldn't show much more heart than last night, either. Trailing the whole game, in a hostile building against what is simply a better team out there to shut you down. Going down a man at the worst possible time, and just willing a goal. Deciding you were going to tie this because that's the way it had to be. Jonathan Toews, who still looks like he has only one functioning arm, showed the hockey world why last year's parade won't be the last one he's leading.
Corey Crawford provided Hawks fans with a view of a No. 1 goalie, and a true No. 1, something we haven't seen around here in many, many moons. Dave Bolland, who came back when I and a lot of others thought it wasn't worth the risk, providing the grit and snarl that was missing from this team for so long.
Ben Smith and Michael Frolik emerging from basically nowhere to be clutch playoff performers. Last night promised more than it took away, depending on how you look at it.
We could spend the whole summer with maybes or what ifs. What if we gathered one more point during the season and didn't have to open the playoffs against the Canucks? What if Bolland had been healthy from jump street? What if Seabrook wasn't actually still concussed, as he looked? What if Toews had been fully functional?
But it's a waste. Do four or five games of wonderful determination and desperation absolve the season-long malaise the Hawks were under? I don't know. If this loss to a superior team happens in Round 2, maybe we all feel better. But the Hawks weren't good enough, plain and simple, to win the Cup this year. And that's how things should be viewed around here now.
But they proved they will be again very soon. Maybe that's enough.