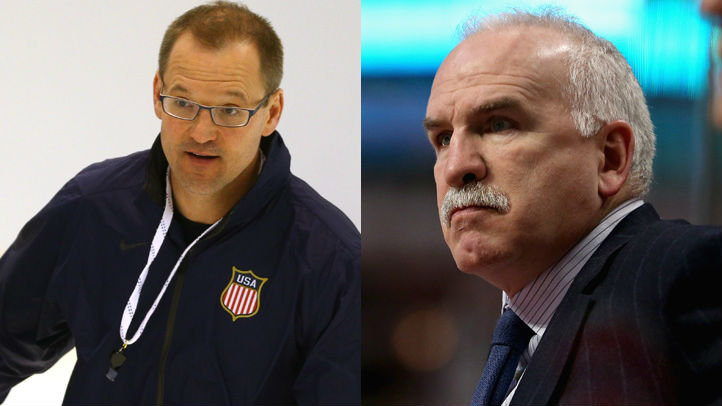 The snow is already falling at Soldier Field in Chicago, and it would appear that earlier weather forecasts of snow during the game were correct.
With that in mind, both head coaches said that they will be altering their strategy a bit, but they don't anticipate it will affect the game that much.
"You won't be looking at the same thing as the Big House (host of this year's Winter Classic) with that amount of snow coming down, but you may need to scrape it a few extra times," Pittsburgh Penguins head coach Dan Bylsma said. "I guess with every outdoor game there's some condition to deal with. I was talking to a cameraman on the way over, and he said it would at least make for a good picture."
Chicago Blackhawks head coach Joel Quenneville echoed those sentiments, and said that his team's strategy would simply be one of simplification.
"I think just basically, let's simplify," he said. "Keep it simple, moving the puck ahead, put it at the net. The likelihood is that it bounces off the boards a little bit different here. We anticipate the conditions might not be great, but I think putting pucks at the net, you never know, you get some favorable bounces and find a way to get there as well."
With all of the snow falling in the stadium, there is a strong possibility that the crews will have to come out during every stoppage to shovel the ice, but Bylsma said that the coaches are able to play with their strategy a bit to take advantage of those conditions.
"There's a possibility of switching ends at the 10 minute mark, but it's no different from a TV timeout that we have in the normal game," he said. "When you're approaching one of those, you know that you are going to have about 45 seconds of rest, so you try to take advantage of a shift chance or matchup."
For Quenneville though, the experience of playing in the snow is more than just a reason to ponder strategic changes; it's also a chance for the team to have some fun.
"I've got one extra layer on, and we'll see how that plays out, but we anticipate a lot of heat by the bench," he said. "Hopefully that works out alright. What a great setting to see the snow fall. I think it adds more excitement to the game, for sure."