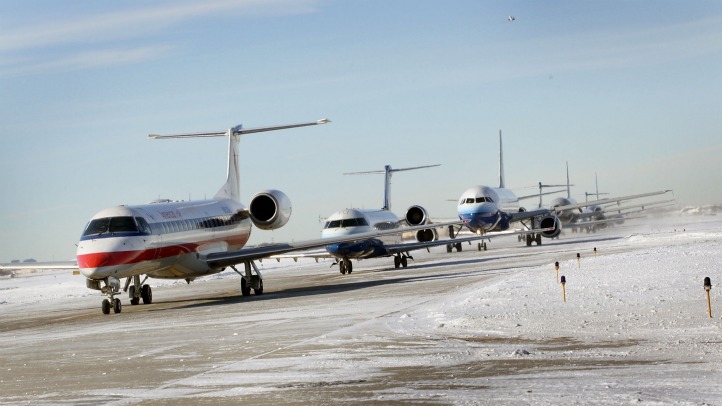 A United flight was delayed out of O'Hare Airport Thursday morning after a fuel truck clipped the plane's wing.

United Express Flight 6188 was apparently waiting for passengers to board around 7:40 a.m. when the truck hit the wing. No injuries were reported and passengers were moved to a different plane. The collision caused minor damage.

It's the latest incident in a string of airport mishaps, from a commercial passenger jet clipping another plane at New York City's John F. Kennedy Airport this month to a Southwest plane sliding off the runway at Chicago's Midway Airport into a patch of mud just this past week.

Earlier this month, about 40 Southwest flights in and out of Midway were delayed after a Boeing 737-300 plane from Phoenix to Sacramento lost a six-foot chunk of its fuselage while airborne.

All this is aside from passenger-related incidents rooted in faintings, unruly passengers, "strange" men and nakedness.

Airport concerns are up across the board after air traffic controllers have been found asleep on the job. In March, federal investigators arrived at O'Hare to investigate the increased number of air traffic control errors in the past year. A report from the Federal Aviation Administration showed the number of errors rose because new air traffic controllers directing planes had failed to keep the proper distance between aircrafts.

There are 52 veterans training 15 controllers with some experience. More training was being done to field added flights and plan for the retirement of veteran controllers.

On Thursday morning, passengers on United Express Flight 6188 were scheduled to take off at 8:10 a.m. and ended up departing a couple hours later with no problems.

Later in the morning, a Continental Airlines flight made an emergency return to San Antonio's airport because of an unexplained chemical smell.