A day after a wall collapsed at a Morton Salt warehouse in Chicago, spilling salt out of the building and burying cars parked at a nearby car dealership, clean-up began. But officials say the process could take several weeks to complete.
Morton Salt said Wednesday crews were working to determine a clean-up plan following the Tuesday incident. A spokeswoman for the company said interior clean-up work began Wednesday and they expect the process to begin on the exterior Thursday.
"We also had some equipment brought in as part of our preparations," said Director of Communications Denise Lauer.
Officials estimate the spill could take up to a month to clean up.
The wall may have collapsed because the salt inside was piled too high, a preliminary inspection by the Department of Buildings found.
The incident sent salt spilling onto vehicles parked at the neighboring McGrath Acura dealership.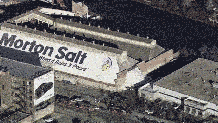 "The wall and roof has been compromised and so they are going to have to do some things to re-stabilize it first before we can tear the wall down and get the cars moved out," said Noble Jones, the general manager at McGrath Acura.
Jones estimates about 11 cars were affected in the collapse.
Leslie Garber said she had just bought her 2015 Silver Acura four months ago. She brought it to the dealership for its first oil change just before the wall collapsed.
"I called them back, they had the service manager handle the call and she told me that my car was not going to be ready to be picked up because it was under a pile of salt," she said.
McGrath said most of the vehicles buried by the salt were being serviced by the dealership.
This year marked the 100th birthday of the Morton Salt girl, according to their website.