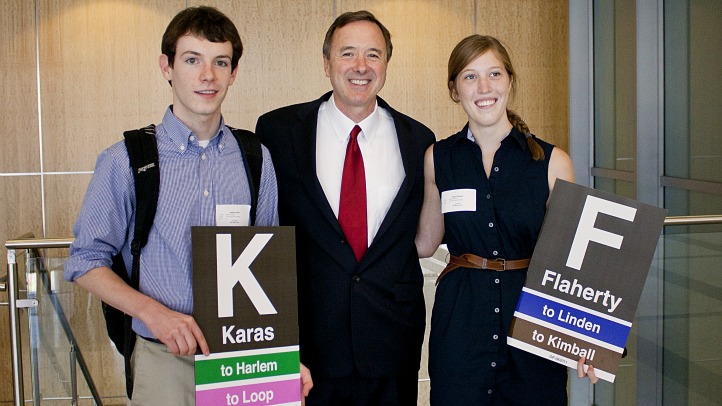 Chicago Transit Authority President Forrest Claypool met with two former Lyons Township High School students Tuesday after their completion of the lengthy the 'L'challenge.
The challenge, although not officially sponsored by the CTA, has become a popular phenomenon for some teens. The idea is simple: ride the CTA's train line through all 144 of its stops.
Andrew Karas, of Western Springs, and Grace Flaherty of La Grange Park, met with Claypool to discuss the challenge. Karas organized a three-person team, including Flaherty, to take on the conquer the feat. The group rode the entire system in 9 hours and 57 minutes on June 24.
Karas spent his senior year conducting an independent study about worldwide transit systems, including regional improvements that could be made to Chicagoland transit. Karas presented his research to Claypool in the meeting.
"Andrew is not alone in his interest in the CTA and the region's mass transit systems, but along with Grace and Ryan, he did something not many people in the nation have done," Claypool said in a statement. "I am pleased to recognize them for such a unique accomplishment and am also excited to hear the young people's thoughts about the CTA."
Although the teens are among the first to complete the challenge, the feat was previously completed in March by Adham Fisher, of Leicester, United Kingdom. Leicester chronicled his experience, comparing the 'L' to London's Tube, on which he previously completed a similarly-timed challenge.
Claypool presented the two teens with a mounted version of the CTA rail system map and a personalized station sign for each of them.