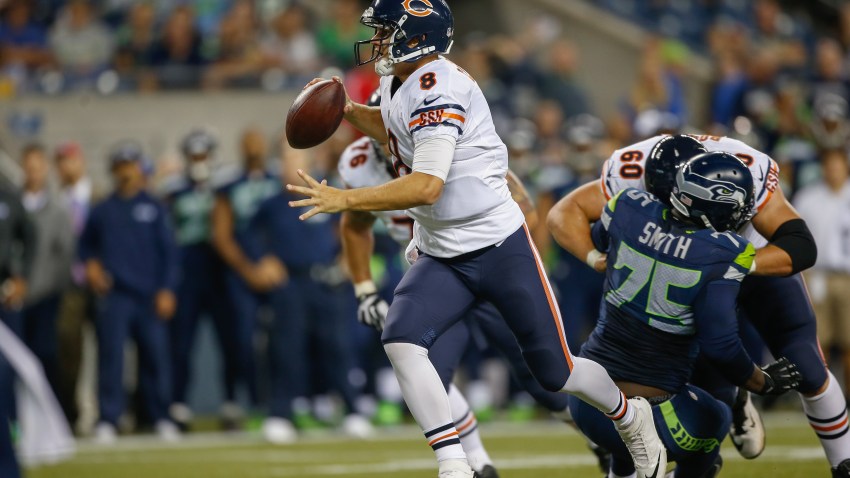 If a fan of the Chicago Bears were to base their opinions of where the team's back-up quarterback battle sits after Friday night's blowout loss to the Seattle Seahawks, then they would probably think that the dynamic remained largely unchanged.
After all, Jordan Palmer, who completed 7-of-10 passes for 48 yards, and Jimmy Clausen, who went 6-for-9 for 36 yards, didn't look all that different statistically. In fact, the duo really hasn't been separated by much on the stat sheet in the preseason, but as has been the case in the two earlier games, Clausen completely dominated the battle in the intangibles department.
Even with the stadium slowly emptying out after the Seahawks took a big lead, the crowd was still noisy during the Bears' opening few drives of the third quarter, and to be blunt, Palmer seemed to have trouble adapting. He had trouble communicating audibles in a few instances, and his throws weren't much better, with a throw to Santonio Holmes along the sidelines standing out. On the play, Palmer should have put some zip on the ball and fired it to Holmes' right shoulder, but instead he threw a lofted pass to the left shoulder, and Holmes was nearly drilled into oblivion as a result.
Palmer's worst sequence came at the end of one of those drives. Coming out of a timeout, Palmer was whistled for a delay of game penalty, and just two plays later, Palmer ended up getting flagged for the same infraction, leaving the Bears well outside of conversion distance and costing them a punt.
In the fourth quarter of the game however, Clausen looked much more composed than his counterpart did. He audibled in and out of plays seamlessly, made a couple of great throws to Armanti Edwards, and even threw the ball away instead of trying to force touchdown passes to make an impact on the coaching staff.
That level of maturity and assertiveness definitely stood out in Clausen's game, and it wouldn't be a stretch to say that the quarterback has likely earned the back-up job with the Bears. Palmer is a nice guy who has worked well with Marc Trestman and company, but the fact of the matter is that Clausen is a motivated player hellbent on showing that he is capable of holding down an NFL job, and he's got the skillset to back up that confidence.