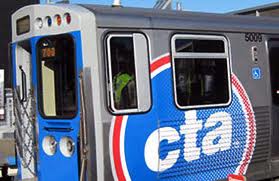 Seventy years ago, the Chicago Transit Agency built a Red Line stop at Clark and Division, and it hasn't changed much since then.

Considering Clark/Division was the 16th busiest rail station in Chicago last year, serving 2.54 million passengers, officials thought it was time for an update.
So the massive project to update and expand the station, funded by the Chicago Department of Transportation and the Chicago's infrastructure renewal program begins this week.
The good news is, Red Line trains won't bypass the station. Expect pedestrian restrictions, though, for getting in and out of the station, and the #70 Division bus must detour around the project. Vehicles also can't access Division between LaSalle and Clark. (Clark and LaSalle are not affected).
Construction crews plan to upgrade lighting, implement new design features and aspect of this $41-million project is a new mezzanine at LaSalle and Division. This drastically increases the entering and exiting capacity of the station by adding stairs, fare turnstiles, elevators and escalators.
As far as the time line on this work: think long-term. CDOT hopes that one eastbound lane of Division will open to traffic next fall. The next goal would be to open the LaSalle mezzanine by September of 2014. Eventually, once Division fully reopens to traffic, the construction would then continue underground for several additional months, with the entire undertaking going right through to mid-2015.
For more on the details of the Clark/Division project, click here.