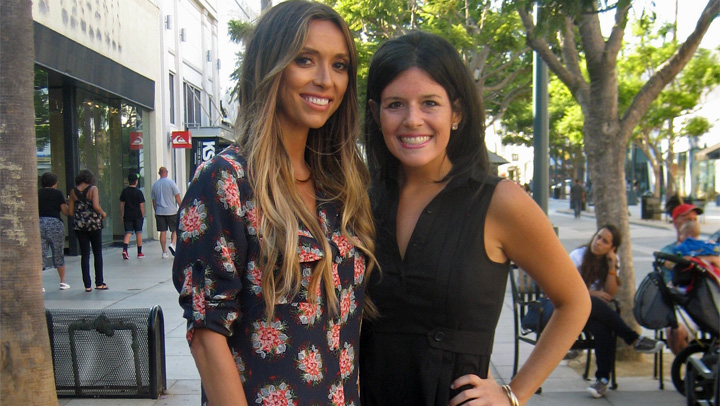 Giuliana Rancic didn't have to look very far for comfort and advice when she was diagnosed with breast cancer a few months ago.

For the last couple of years, she's been an avid supporter of Chicago's Be Bright Pink organization, which provides education and support to young women at a high risk for breast and ovarian cancer.

So it's no surprise Rancic turned to her friend, Bright Pink founder Lindsay Avner for support, especially with her latest decision to undergo a double mastectomy.

"It was really an honor and a blessing that she and Bill let me in," Avner told NBC Chicago. "The organization helps a lot of women around the country confront breast cancer, but I guess you could say I served as her Pink Pal."

Avner received a double mastectomy six years ago at the age of 23 -- the youngest woman ever to undergo the procedure at the time. It's the exact same surgery Rancic has decided to undergo.

"At first she said no way to doing the mastectomy, afraid she'd be maimed, but I was sitting in their living room and said, 'I want you to see it.' I took off my top right there and showed her and Bill what a mastectomy looks like," Avner said.

"It's just a couple of scars, and the thing about Giuliana — and this says a lot about her — is that she embraced it, saying 'I actually think scars are cool. They tell stories, they add character to your life.'"

Having someone with Giuliana's high profile talking about breast cancer is also helping to get the word out about prevention. Avner says a 35-year-old Chicago woman recently reached out to her organization after hearing about Rancic, and they found a lump on her breast.

"The best thing is, when you catch it early, you have options. Giuliana's choosing this treatment because she just wants to put it to bed and not have to deal with it anymore," Avner said.

And there's no question the word is getting out. Avner was featured in Rancic's E! News segment Monday night (view below), and after a few celebrity retweets, the Be Bright Pink Web site crashed from all the increased traffic.

"When you go through an experience like this, you hope to help one life. Life just kind of happens and never deals you more than you can handle," Avner says.