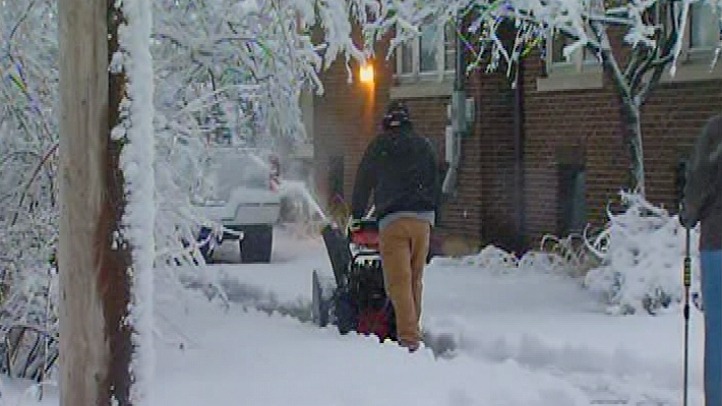 Where Chicago came up short on snow, the north suburbs got slammed.

Totals ranged from about two to six inches just north of the city, but the most snow fell farther north and northwest toward Wisconsin.

The strongest band of snow left seven inches in Lake County and eight in McHenry County. Towns with the most shovel work ahead of them? Gurnee and Marengo with 7.5 inches, Lake Zurich with eight, Mundelein with 8.2 and Cary with a whopping 8.5 inches of snow.

So far this winter, Chicago shoveled only about 16 inches of snow, making the 2011-2012 season the fifth least snowy in local history. It's a big switch from little more than a year ago when about 23 inches fell Feb. 2 during the city's third biggest blizzard ever.

In Palatine the snow was so heavy and wet that snow blowers got stuck and tree branches weighed down with snow started to break.

Chicago totals hovered between an inch and two inches, but any snow the city missed overnight poured down Friday in time for the morning commute.

Wet, heavy snow made visibility low and roads slick, and the National Weather Service extended the area's winter weather advisory from 9 a.m. to noon. A number of slide-outs were reported on major expressways.

Overnight, areas to the north continued to get pummeled by massive snowflakes. By Friday morning, South Barrington had racked up five-and-a-half inches, Downers saw four inches and Palatine measured three.

Hundreds of flights were canceled, and morning travelers were urged to call ahead for flight times out of Midway and O'Hare airports.

The Illinois Tollway on Thursday sent out its full fleet of 183 snowplows to cover the 286 miles of interstate. Chicago's Department of Streets and Sanitation deployed 250 plows onto Chicago's main routes and Lake Shore Drive.

Temperatures rebound Sunday and Monday into the 40-degree range to start melting the snow.