After a wintry weekend, bitter cold and lake effect snow hit the Chicago area Monday morning.
Early-morning temperatures were in the single digits across the area and even reaching below zero in some far suburban counties.
Those temperatures were expected to rise gradually into the double digits by the afternoon, peaking in the low to mid teens. Chicago Weather Forecast: Bitter Cold Temps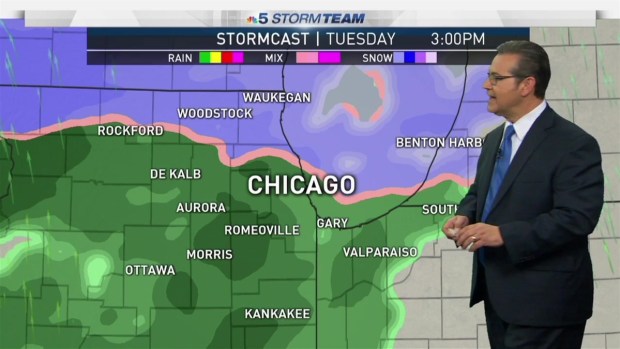 But light and variable winds will increase and gust up to 20 mph, which will make temperatures feel closer to zero.
Monday looked to be overcast, beginning with Lake Effect snow showers or flurries on occasion through the morning in counties close to the lake.
Skies become partly sunny for a period this afternoon then turn mostly cloudy again with some light snow or flurries possible this evening.
Your Photos of the January Snowstorm Across Chicago
Monday night will see partly cloudy skies and more breezy, bitter cold before temperatures slowly rise overnight into the teens by dawn.
Mostly cloudy skies Tuesday morning become overcast and not quite as cold. What Does Lake-Effect Snow Actually Mean?
Light snow develops by late Tuesday morning or early afternoon and will likely be mixed with freezing rain and sleet. This icy combination may last for several hours and could lead to hazardous travel conditions across the area.
As temperatures rise above freezing, the wintry mix should change to rain in counties south of I-80 by late afternoon, then across most of the Chicago area by evening.